Improving Care for Older Adults
News
$5 Million VA CHERP Implementation Project to be Led by Penn LDI Senior Fellows
Focuses on Establishing "Age-Friendly Health Systems" In all Pennsylvania VA Health Facilities

The Center for Health Equity Research and Promotion (CHERP) at Philadelphia's Crescenz VA Medical Center has received a $5 million, 5-year grant for the implementation of "Age-Friendly Health System" (AFHS) concepts throughout 54 VA health facilities across Pennsylvania. 
The project will be led by Co-Principal Investigators and core CHERP investigators Robert Burke, MD, MS, Judith Long, MD, and Rachel Werner, MD, PhD, and the University of Pittsburgh's Daniel Hall, MD, MDiv, MHSc. Burke, Long, and Werner are also LDI Senior Fellows; Long is the Co-Director of CHERP.
Evidence-based principles
AFHS is an integrated framework of evidence-based principles related to elder medical care pioneered over the last five years by the John A. Hartford Foundation and the Institute for Healthcare Improvement (IHI). AFHS is now used in more than 100 health systems across the country.
Pennsylvania's VA facilities constitute one of 22 Veterans Integrated Services Network (VISN) areas covering the 50 states. VISN4 — Pennsylvania — will serve as the test bed for the VA's first AFHS implementation.
"Research shows that having unmet care needs among older adults accelerates cognitive and physical decline, leads to poorer health, and increases risks for more frequent hospitalization and nursing home use," said Burke, Director of Research for the Hospital Medicine Section and an Assistant Professor of Medicine at Penn's Perelman School of Medicine. "With 62% of the VISN4 Veteran population over the age of 65, this funding provides the opportunity to transform our care system-wide, and to create a model to share across the VA."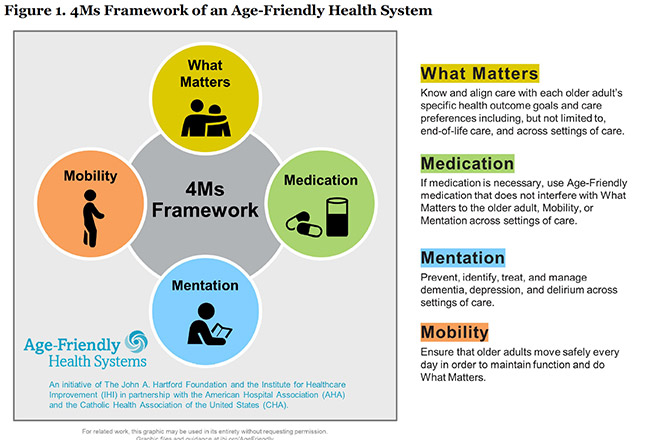 The implementation of Age-Friendly Health Systems involves establishing a synergistic framework of four areas of evidence-based practices to guide overall care for elderly patients. Known as the "4Ms," and in simple laymen's terms, these are:
1. What Matters, or understanding the patient's care preferences and goals. This includes routine screenings for fragility before surgery as well as across all other settings of care, including end-of-life.
2. Medication, or the use of medications in ways that do not interfere with What Matters to the patient or his or her mobility or mental acuity across all settings of care.
3. Mentation, or the prevention, identification, and effective management of dementia, depression and delirium across all settings of care.
4. Mobility, or promoting patients' safe physical movement every day in ways that help to maintain function and independence.
Early AFHS research
The research and testing that led to the Age-Friendly Health System concepts began as a collaboration in 2016 between the 90-year-old John A. Hartford Foundation in New York, a non-profit philanthropic organization focused on improving health care for the elderly, and the Institute for Healthcare Improvement (IHI) in Cambridge, Mass. IHI was founded in 1991 by Donald Berwick, MD, MPP, who later went on to become the Administrator of the Centers for Medicare and Medicaid Services (CMS) in the Obama Administration; today he remains an IHI board member.
A 2019 article in the Journal of the American Geriatrics Society indicated that in the first rounds of AFHS pilot projects, one potential impediment to smooth implementation was hospitals' and other providers' lack of standardized electronic medical records. It noted the Veterans Health Administration has such a standardized records system that can seamlessly communicate patients information across its entire national network of health facilities and that "nongovernmental systems have much to learn from (the VA's) progress."