Health Care Access & Coverage | Health Equity
News
CMS Minority Health Office Chief Lauds Penn's Shreya Kangovi
Community Health Workers Project Featured at Inclusion and Diversity Luncheon Event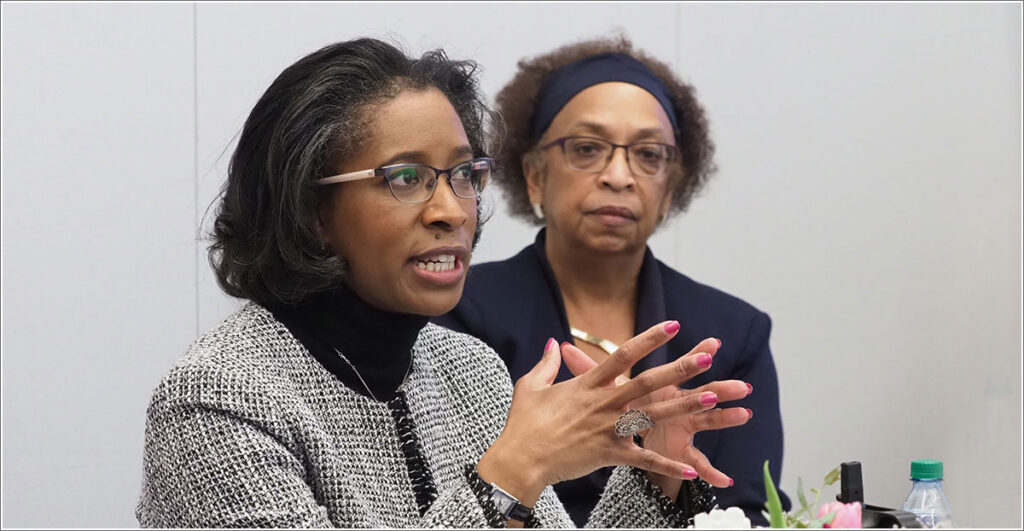 At a private lunch arranged by the Perelman School of Medicine Office of Inclusion and Diversity, Cara James, Director of the Office of Minority Health within the Centers for Medicare & Medicaid (CMS), lauded Shreya Kangovi's community health workers project and said the concept seemed a particularly good one for Medicare to investigate further.
Kangovi, MD, MSHP (above, left), Executive Director of the Penn Center for Community Health Workers and LDI Senior Fellow, was the speaker at the Special Interest Group on Health Disparities' luncheon event designed to introduce junior faculty members to senior national experts. Four of the invitational luncheons are organized each year and attended by health care-related Penn faculty members and students. Above, right, Jaya Aysola, MD, MPH, Assistant Professor of Medicine at the Perelman School, introduced Kangovi. Aysola is also Assistant Dean for Inclusion and Diversity, Chair of Penn Medicine's Health Equity Taskforce and Executive Director for Penn Medicine Health Equity Initiative.
Kangovi's decade-long research project — Individualized Management of Patient-Centered Targets (IMPaCT), is a system that hires, trains and manages teams of people from low-income neighborhoods like West Philadelphia to function as health system navigators for high-risk members of their own communities.
IMPaCT's national impact
The IMPaCT system is now being used by health care systems across the country.
In her remarks Kangovi emphasized the idea of community health workers is not new but previous attempts to create effective programs frequently floundered "because of nitty gritty implementation factors."
The Penn Medicine Assistant Professor and LDI Senior Fellow has conducted several years of randomized controlled trials showing the IMPaCT system significantly improves metrics of health care quality and cost, including increased access to primary care, the increased effectiveness of discharge communications and procedures, and the systematic lowering of readmissions rates. "The systems and infrastructure of hiring, training and management are the keys," she said.
'A little condescension'
"I think that when 'community health workers', 'determinants of health' and other topics under the community health umbrella come up, there's sometimes a little condescension and many health system implementors think they can quickly get these programs right without the effort and rigor that other disciplines demand," said Kangovi.
She was accompanied to the luncheon by Kevin Mahoney, Senior Vice President and Chief Administrative Officer of Penn's Health System where he will become CEO on July 1.
Dr. James applauded IMPaCT's success and noted that along with getting trained neighborhood workers involved in health care, she also favored changes that would systematically get more young physicians-in-training out into the neighborhoods. "These kind of community partnerships can also become the pipeline to creating more diversity at a higher level within health care," she said.