News
Four Innovation Teams Re-Imagine Parts of Penn Medicine
Report from the Sixth Annual "Innovation Accelerator" Pitch Day
The four "Innovation Accelerator" projects presented at the sixth annual Penn Medicine  Innovation Accelerator "Pitch Day" proposed new ways for getting new mothers out of the hospital faster, improving the rate of screening for patients at risk for liver cancer, expanding and revamping emergency departments protocols for opioid overdose patients, and integrating mental health care into the routine operations of general in-hospital care.
The annual program provides clinicians and staff across the University of Pennsylvania Health System an opportunity to scientifically test ideas for improving some aspect of care and is sponsored by the Penn Medicine Center for Health Care Innovation and UnitedHealth Group, the country's largest health insurance company.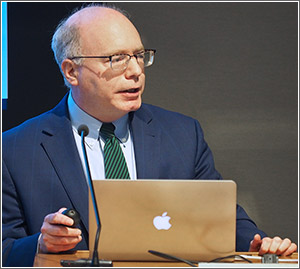 500 innovation ideas
"Since the Accelerator and Pitch Day started in 2013, we have crowdsourced over 500 proposals from passionate staff members across our academic enterprise and launched 31 projects involving 150 health system staff," said Innovation Center Executive Director and LDI Senior Fellow David Asch, MD, MBA.
"The Goals of Pitch day embody the major goals of the Innovation Center – to conceive, test, and implement ideas that will improve health care for patients, providers and others in our community, and enable us to support clinicians and staff in ways that make Penn medicine a place where change can happen," Asch continued.
Front-line clinicians
What makes the "Innovation Accelerator" program different is that it has mobilized Penn Medicine's own front-line physicians, nurses and technical professionals to identify the opportunities within their own spheres of daily care activities. And it has then provided them with the funding and support needed to conduct pilot innovation projects exploring their own ideas of how to achieve these opportunities.
The innovation teams work according to product development concepts pioneered in the software industry. They conduct short-term, fast-turn-around experiments that provide insights into the probable viability of a given idea for logistical, communications or management change. Promising results incrementally move the work to a new phase of broader support and testing. At the end of six months, the teams report their findings in the "Pitch Day" event.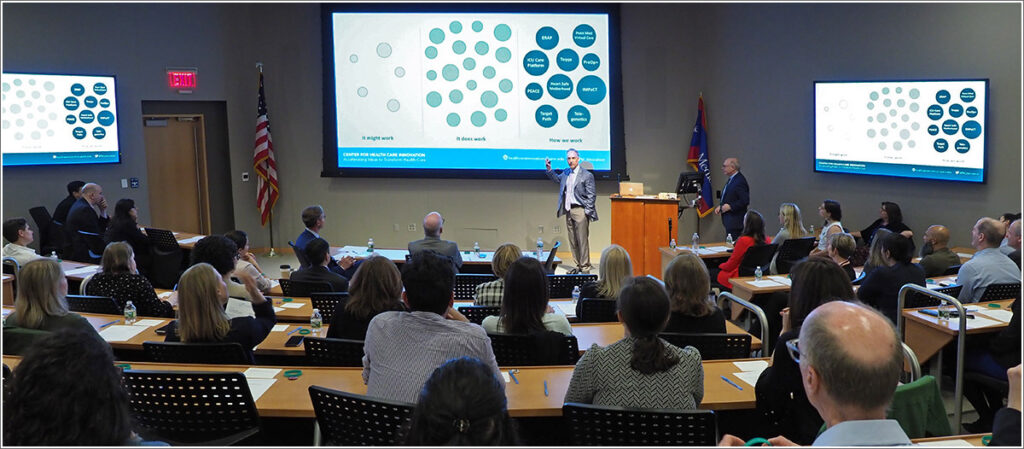 'It takes a village'
"There are a lot people involved in these projects," said Roy Rosin, MBA, Penn Medicine Chief Innovation Officer and LDI Senior Fellow. "In order to move a project forward, you have worked with our IS partners, our entity executives, our CIO team, the department chairs and many others. Every single person on these teams know it takes a village to get this right."
THE PITCHES
Making their pitches were four teams whose complete presentations can be seen at the indicated time coordinates within the 46-minute video above:
HEALING AT HOME
Jessica Gaulton, MD, MPH
Fellow in the Division of Neonatology at Children's Hospital of Philadelphia
(See video section at 03:50)
Jessica Gaulton, MD, MPH, said her Accelerator idea began with an observation she made when delivering her second child. "I had to stay in the hospital for three days to meet all the discharge criteria. I wondered why we couldn't leave earlier," she explained. "What I wanted more than anything was to get back to my daughter and husband and bond with my son in the comfort of our own home."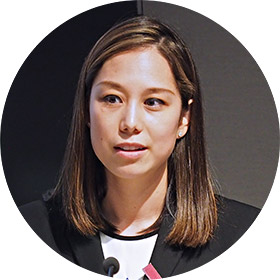 Her pilot project team first surveyed low-risk women who had vaginal deliveries and found that 80% of them wanted to do the same: go home earlier than three days. Thus, began an investigative quest to understand exactly what was stopping mothers from going home earlier with their babies.
The postpartum experience
Ultimately, the Healing at Home team set out to redesign the entire postpartum experience. Their experiment rethought the in-patient workflows for deliveries, designed new supports for mothers transitioning to home with their babies, and established a system for providing individualized high-value care services in the home. The pilot project reduced length of stay by 40% — women spent an average of 19 fewer hours in the hospital.
One area the innovation targeted was the difficulty mothers encounter when trying to contact a doctor or nurse by phone to ask immediate postpartum questions about their baby or themselves. The team used the Innovation Center's Way to Health computer system to create an artificial intelligence-augmented chat bot that enabled mothers to text in questions and get immediate text answers. Over the course of two months, 92 women sent in more than 2,000 text questions.
"Through our pilot, we were able to improve health care utilization by preventing unnecessary pediatrician and ER visits, catching medical problems earlier and appropriately referring patients to their doctors when needed," Gaulton said.
---
LIVEAWARE
Tessa Cook, MD, PhD
Director of 3-D Advanced Imaging Laboratory at the Hospital of the University of Pennsylvania (HUP)
(See video section at 13:24)
There are approximately 6,000 Penn Medicine patients with conditions that warrant screening every six months for early signs of the most common kind of liver cancer. Tessa Cook, MD, PhD, Director of the 3-D Advanced Imaging Lab at the Hospital of the University of Pennsylvania (HUP), pointed out that early detection significantly improves outcomes but as many as 60% of patients are diagnosed too late to be cured.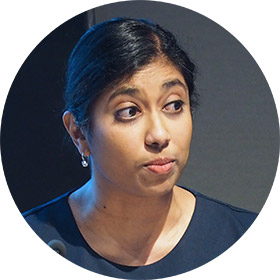 Called LiveAware, her Innovation Accelerator project focused on the use of medical record analytical strategies to identify and engage both patient and physician in ways that generate a screening order and achieve a screening completion.
20 factors
Two aspects of the problem are that it's often difficult for a single physician to ID and track patients who are candidates for early screening for hepatocellular carcinoma, or HCC. Cook noted that a typical primary care physician with a patient panel of 560 might have only one eligible for HCC screening. But the doctor doesn't know who that patient is. Identifying such individuals is not simple because more than 20 factors are involved.
The LiveAware's solution was a dashboard developed using the Innovation Center's "Agent" platform — that can identify the electronic health records of potential HCC screening candidates. The LiveAware team used the dashboard for a month with 11 physicians and identified 23 patients who appeared eligible and due for screening. Fourteen of the orders LiveAware placed have been signed by physicians.
Cook predicted that a refined LiveAware dashboard system could potentially catch more than 2,000 patients at risk for HCC within the Penn system who might otherwise be missed.
---
CENTER FOR OPIOID RECOVERY AND ENGAGEMENT (CORE)
Julie Dees, MA, LPC
Director, Behavioral Health Services, Penn Presbyterian Medical Center
(See video section at 22:13)
Once an opioid overdose patient is stabilized with Narcan in a hospital emergency department, it has been common practice to quickly send them back to the street without any further patient-physician interaction. In her Innovation Accelerator Pitch Day presentation, Julie Dees pointed out that those patients leave with little more than an aftercare instruction sheet that says "Please stop abusing these multiple drugs. It will lead to your death."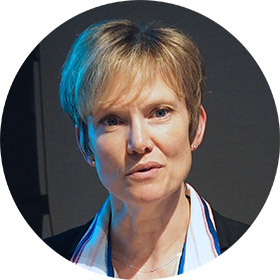 "We must do better," said Dees, MA, LPC, the Director of Behavioral Health Services at Penn's Presbyterian Medical Center. That desire to "do better" resulted in her team's rethink of the ED's role in the current opioid epidemic. The concept that resulted was an Innovation Accelerator project called CORE — the Center for Opioid Recovery and Engagement.
Buprenorphine treatment
Working in Presbyterian Medical Center's ED, the CORE team envisioned new protocols that added certified recovery specialists (CRSs), analytics capable of identifying potential opioid use disorder (OUD) patients, more aggressive encouragement for clinicians to prescribe buprenorphine, and access and support to continued treatment.
The CORE pilot project was designed to automatically identify that an OUD patient was in the ED, notify a CRS who meets the patient bedside to discuss treatment goals and options, have the physician get the patient started on buprenorphine, schedule a follow-up appointment at a Penn clinic, and provide a "bridge script" of buprenorphine to cover the period from discharge to that clinic appointment.
"The patient leaves the ED with a plan, evidence-based treatment, and a peer counselor to provide further information and support as needed," Dees explained. To date, the program has proven itself enough to be expanded from Presbyterian to Penn's Pennsylvania Hospital and the Hospital of the University of Pennsylvania (HUP).
---
MENTAL HEALTH ENGAGEMENT, NAVIGATION +DELIVERY (MEND)
Cecilia Livesey, MD
Medical Director of Strategy and Integration, Department of Psychiatry
(See video section at 31:27)
Although close to half of the patients admitted for hospital care have some kind of mental health co-morbidity, only 6% actually have their mental health issue addressed by the hospital staff," said Cecilia Livesey in her Innovation Accelerator Pitch Day presentation.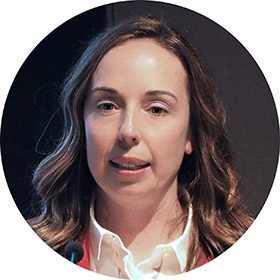 Livesey, MD, is Medical Director of Strategy and Integration in the Department of Psychiatry at the Perelman School of Medicine; her project is entitled Mental Health Engagement, Navigation and Delivery (MEND). She noted patients with mental health issues stayed in the hospital 22% longer and the chain reaction of their extended stays affected everyone's care. The MEND team found that 98% of clinicians wanted help addressing this problem but didn't know where to get it.
That's where MEND came in with a four-month pilot project on two hospital floors.
Flip the paradigm
"We set out to flip the mental health paradigm from reactive to proactive engagement," said Livesey, "from siloed to integrated care delivery; from sporadic to continuous navigation of complex needs. And we hope to take mental health from costly to sustainable. MEND refuses to accept mental health as a separate, stigmatized practice accessible by the few."
Coordinating closely with the floors' medical staff, the MEND team set out to apply machine learning to their first goal of identifying the patients with psychiatric issues. They reviewed 300 patient charts, identified those with mental health needs, and then trained an algorithm on the raw notes of the chart texts. Over four months, the ability to identify in-house patients with mental health issues rose from 6% to 49%.
MEND embedded a full-time nurse practitioner, a full-time social worker and a part-time psychiatrist on the floors to provide quick and direct service to patients identified with co-morbidity issues. Rounding with the medical staff, MEND provides guidance on medication management, interpersonal dynamics and crisis de-escalation. For patients, MEND provided evidence-based psychotherapies, motivation for patients to engage with treatment, and counseling aimed at assisting patient in identifying and overcoming barriers to care.
One initial result of the pilot was a significant reduction in length of stay for all patients on the floors.
~ ~ ~
Hoag Levins is Editor of Digital Publications at the University of Pennsylvania's Leonard Davis Institute of Health Economics (LDI) and a former reporter and editor at newspapers and magazines in Philadelphia, New York and Washington, D.C.