News
Justin Bekelman Wins 2018 American Cancer Society Cancer Control Award
Cited for 'Major and Unique' Contributions to the Field
Penn Medicine Oncologist and LDI Senior Fellow Justin Bekelman has been named winner of the 2018 Cancer Control Award from the Philadelphia Market of the American Cancer Society (ACS).
The award will be presented at the organization's Annual Awards Dinner on November 1 in the King of Prussia Crown Plaza Hotel. Established in 1995, the annual honor recognizes an individual "who has made a major and unique contribution to cancer control."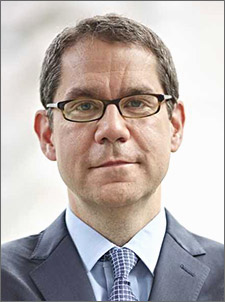 'Really making an impact'
"This award and event celebrates people who are doing something different and really making an impact," said Erik McGaughey, Director of Community Development for ACS and staff coordinator of the awards program. That market chapter encompasses Philadelphia, Bucks, Delaware, Chester and Montgomery counties where thousands of volunteers and medical professionals are engaged in cancer control efforts.
"Cancer control" describes a wide range of activities aimed at reducing the cancer burden in a given population through dissemination and delivery of evidence‐based interventions focused on prevention, early detection, or treatment.
New Cancer Care Innovation Center
Bekelman, MD, is Associate Professor in the Departments of Radiation Oncology and Medical Ethics and Health Policy at the Perelman School of Medicine, Director of the newly established Penn Center for Cancer Care Innovation (PC3I) at the Abramson Cancer Center (ACC), a faculty member at the Center for Health Incentives and Behavioral Economics (CHIBE), a Senior Fellow at the Penn Center for Precision Medicine (PCPM) and the Leonard Davis Institute for Health Economics (LDI), all at the University of Pennsylvania.
ACS judging documents characterize him as "one of the most consequential cancer health services researchers in the United States (who) has achieved international distinction for his path-breaking scientific leadership in cancer comparative effectiveness and delivery system reform research."
Targeted cancer drugs
In recent years, Bekelman led a multidisciplinary group of experts from cancer medicine, patient advocacy, insurance and pharmaceutical companies, health care economics, policy, law and regulation that proposed a comprehensive set of recommendations for maximizing the clinical benefit and affordability of "targeted" cancer drugs — some of which have been as miraculously effective as they are astronomically expensive.
Earlier this year as a keynote speaker, Bekelman presented those recommendations to 22,600 attendees at the Annual Meeting of the American Association for Cancer Research at the same time they were published in the Journal of the American Medical Association (JAMA). Twitter pickup of that JAMA article, according to the ACS, "reached over 700,000 readers" while the Altmetric system that measures readership of academic literature rated the article as one of its highest ranked.
High-profile dissemination
ACS's McGaughey noted that both the unusually wide and high-profile dissemination of Bekelman work and its tight focus on improving the costs, quality and integrity of cancer care at the point of delivery makes the Penn physician-scientist "a great partner to the American Cancer Society."