Health Care Access & Coverage
News
Machine Learning 102 Report – Learning the Future at LDI/IBI Workshop
The Smart Algorithms "Being Integrated Into Everything" in Health Care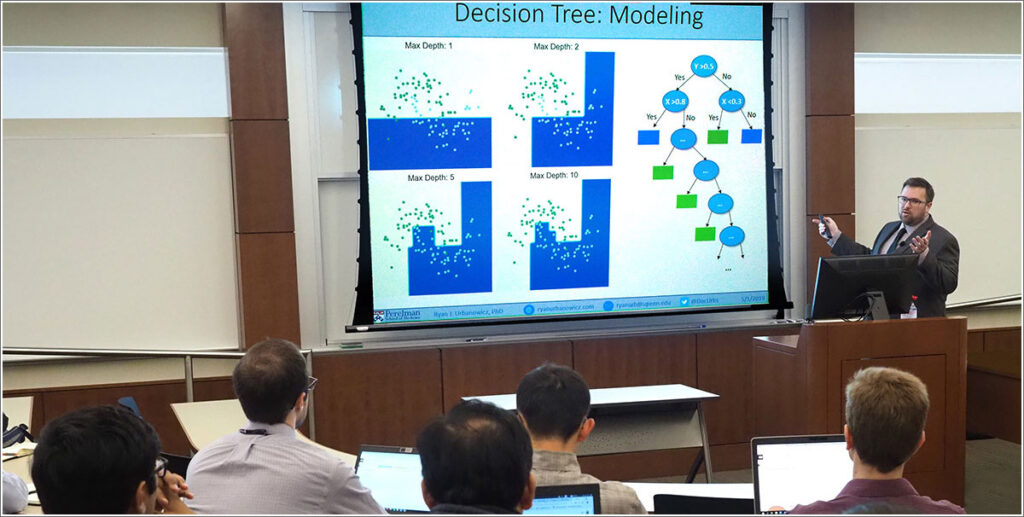 The second machine learning workshop sponsored by the Leonard Davis Institute of Health Economics (LDI) and Penn Medicine's Institute for Biomedical Informatics (IBI) drew more than five dozen participants from Penn's schools of medicine, business, nursing and Children's Hospital of Philadelphia. Some sense of the wide interest in the subject was obvious from the participants' departments, including emergency medicine, internal medicine, pediatrics, medical ethics, genomics, anesthesiology, and nephrology, among others.
Growing importance
"I think there is a general appreciation throughout the biomedical and health services research world of the growing importance of machine learning," said workshop leader Ryan Urbanowicz, MSE, PhD, Assistant Professor in Penn's Perelman School of Medicine Department of Biostatistics, Epidemiology & Informatics. "Our goal in these workshops is to make machine learning less scary and make it accessible to more researchers at a time when we have access to more data than ever before but not always a clear idea of what to do with it."
The move to embrace machine learning is in keeping with the other data-related research supports the Leonard Davis Institute already provides to its more than 450 Senior and Associate Fellows. These include the 13-year-old Health Services Research Data Center (HSRDC), housing a large collection of health care-related data sets, and the Health Economics Data Analyst Pool (HEDAP) of 20 masters- and PhD-level analysts and programmers.
Smart algorithms
A component of artificial intelligence, machine learning uses algorithms to analyze and assemble predictions from large data sets. The algorithms are able to make predictions about how to perform and continuously improve their performance of certain kinds of tasks without any outside input. In effect, the computer code system itself "learns" how to achieve better outcomes and then integrates that knowledge into its operation.
"Machine learning is being integrated into nearly everything in health care," said Urbanowicz. "It's going to be essential for many researchers and others to have core knowledge on these topics, not necessarily because they want to do research with it but rather because they need to properly evaluate other people's work in machine learning."
Grants and papers
"That's a big limiting factor right now," Urbanowicz continued. "When it comes to reviewing grants and papers there seems to be a high demand for people who understand the actual limitations of machine learning. So, a basic understanding is going to be essential whether you are at the administrative, research or implementation level as these broad innovations go forward." 
Urbanowicz is also Director of Penn's UrbsLab that focuses on machine learning and other AI innovations that can better integrate data types and detect patterns that are too complex for existing research methods to recognize.