Health Care Access & Coverage
News
Meghan Lane-Fall Appointed to Endowed Chair in Penn Anesthesia Department
Cited for International Impact in Implementation Science
LDI Senior Fellow Meghan Lane-Fall, MD, MSHP, FCCM, has been appointed to an endowed chair as the David E. Longnecker Associate Professor of Anesthesiology and Critical Care in the Perelman School of Medicine's Department of Anesthesiology and Critical Care.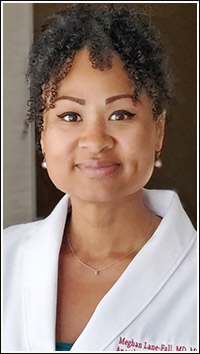 International impact
In his announcement, Department Interim Chair Bill Hanson, MD, said the position "recognizes the quality and international impact of Dr. Lane-Fall's research on teamwork, communication, and implementation science in critical care medicine."
Established in 2016, the endowed chair is named in honor of David E. Longnecker, MD, Chair of the department from 1988 to 2002.
Inclusion, Diversity and Equity
Lane-Fall is the founding Co-Director of the Penn Center for Perioperative Outcomes Research and Transformation (CPORT), and serves as the Anesthesia Department's Vice Chair for Inclusion, Diversity and Equity. 
An Associate Professor of Epidemiology, she was this month also named Director of Acute Care Implementation Research at the Penn Implementation Science Center at LDI.
Lane-Fall received her AB degree with High Distinction from the University of California at Berkeley, her MD degree from Yale University, and completed anesthesia residency, critical care fellowship and research fellowship at the University of Pennsylvania. During that time, she completed a Masters of Science in Health Policy Research. She was elected to the Association of University Anesthesiologists in 2015 and to the Anesthesia Patient Safety Foundation Board of Directors in 2017.