News
New Three-University Exchange Boosts Emerging Health Services Research Scholars
Penn, Michigan, and UCSF Test Program to Enhance Young Investigators' Networking Opportunities

In the first round of a new three-university Emerging Scholars Exchange collaboration, University of Michigan Assistant Professor Renuka Tipirneni, MD, MSc will present at the University of Pennsylvania's Leonard Davis Institute of Health Economics (LDI) on May 15. Her talk is titled "What Happens to Patients after Medicaid expansion?: Changes in Health Care Access, Health Behaviors, and Work."
Tipirneni's visit and presentation to LDI comes a few weeks after Penn Medicine emergency physician and LDI Senior Fellow M. Kit Delgado, MD, MS made a similar exchange visit to Michigan's Institute for Healthcare Policy & Innovation (IHPI) in Ann Arbor.
Penn, USCF, and Michigan
Along with Delgado's and Tipirneni's exchange visits, University of California, San Francisco's Philip R. Lee Institute's Grace Lin, MD, MAS, has visited Michigan IHPI to present on the challenges of incorporating patient perspectives into quality measurement and Michigan IHPI's Minal Patel visited UCSF to present on patients navigating the financial aspects of their care.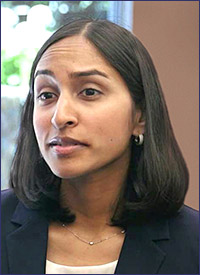 Conceived by IHPI's Faculty Development Committee, the exchange program is designed to provide development opportunities for early career faculty through Penn LDI, Michigan IPHI and the UCSF's Lee Institute. It is particularly aimed at young health services researchers who have not had multiple invitational speaking opportunities at other universities.
Bolstering CVs
Participants, who apply and are selected for the program, get the chance to develop relationships with potential research collaborators, mentors, and sponsors; hone their oral presentation skills; and bolster their CVs as they prepare for promotion.
"IHPI reached out to us about becoming part of the Emerging Scholar Exchange Program pilot and I think it has worked really well," said LDI Executive Director Daniel Polsky, PhD. "The most important aspect of the program is getting young investigators in front of audiences that somewhat are outside their comfort zone in ways that help expand their vision and grow their personal network connections."
LDI Senior Fellow M. Kit Delgado was Penn LDI's first Emerging Scholar Exchange Program participant. He presented at IHPI in Ann Arbor in early April. See a video of his presentation here.
The first Penn LDI emerging scholar, Penn Medicine Assistant Professor of Emergency Medicine M. Kit Delgado, MD, MS, agrees.
Exposure and Networking
"It was a great experience," said Delgado, who traveled to Ann Arbor in early April to present at IHPI about his research on the use of smartphone technologies and behavioral economics for preventing unintentional injury and drug overdoses. "I know in the past people have been worried about invited lectures being a recruitment push but this program clearly wants to make it an opportunity about exposure and networking and a way for early researchers to work on their public speaking."
"I got a lot out of it because Michigan's one of the few places that has a robust group of people working in both injury prevention and the opioid crisis," Delgado said. "I met colleagues in emergency medicine there who run the injury center and that was important to me because these are people who are potential future collaborators. We've already had some follow-up emails on topics of common interest."