The Emerging Scholars Exchange Program is designed to provide professional development opportunities for LDI's early career faculty via invited presentations at prestigious peer universities. Through the Exchange Program, early career faculty will have the opportunity to develop relationships with potential research collaborators, mentors, and sponsors; hone their oral presentation skills; and bolster their CVs as they prepare for promotion.
It was a great experience…I know in the past people have been worried about invited lectures being a recruitment push, but this program clearly wants to make it an opportunity about exposure and networking, and a way for early researchers to work on their public speaking.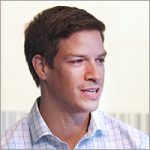 M. Kit Delgado, MD, MS
Assistant Professor of Emergency Medicine and Epidemiology, Perelman School of Medicine
Call for Applications
Apply for the 2023–2024 Emerging Scholars Exchange Program via this online form. Applications are due Monday, October 9, 2023 at 5:00p.m. ET.

---
Eligible Faculty
LDI Senior Fellows at the Assistant Professor rank in the Tenure Track or Clinician-Educator Track who have been faculty members for at least three years.
Candidates should have at least five first-authored or last-authored research papers since joining the Penn faculty.
Candidates should have a robust health services research portfolio, with several potential speaking topics.
The candidate's promotion dossier for Associate Professor has not yet been submitted.
Preference will be given to applicants who have not already had multiple invited speaking opportunities at other universities. Applicants should be willing to speak at either of our two partner institutions if invited to do so. Faculty who have been selected as Emerging Scholars in prior years are not eligible.
Two Emerging Scholars from Penn will be selected to visit and give a research presentation at our partner institutions: the University of Michigan's Institute for Health Policy and Innovation and the University of California-San Francisco's Philip R. Lee Institute for Health Policy Studies (each Scholar will visit one institution only). In exchange, scholars from each of these universities will be selected to present Penn. All travel expenses will be covered by the hosting institutions.
---
A Completed Application Includes:
An up-to-date CV, including grant support.
A statement of interest (no more than 500 words) from the applicant describing why they want to be an Emerging Scholar, and why this opportunity would be important for their professional development.
Two to three proposed research presentation titles, including a brief description of each.
Lists of no more than 10 faculty from each peer institution (i.e., University of Michigan and UCSF) with whom the applicant would like to meet during his/her visit, if selected.
Application materials should be submitted online.
---
Questions?
Please contact LDI's Director of Operations, Traci Chupik.
Prior Penn LDI Emerging Scholars
2022 Scholars
2021 Scholars
2020 Scholars
2019 Scholars
2018 Scholar
Featured News and Events