Health Care Access & Coverage
News
Patrick Conway's Quest to Revolutionize North Carolina Health Care
Former LDI Senior Fellow Describes the Sweeping Changes in a Talk at Penn LDI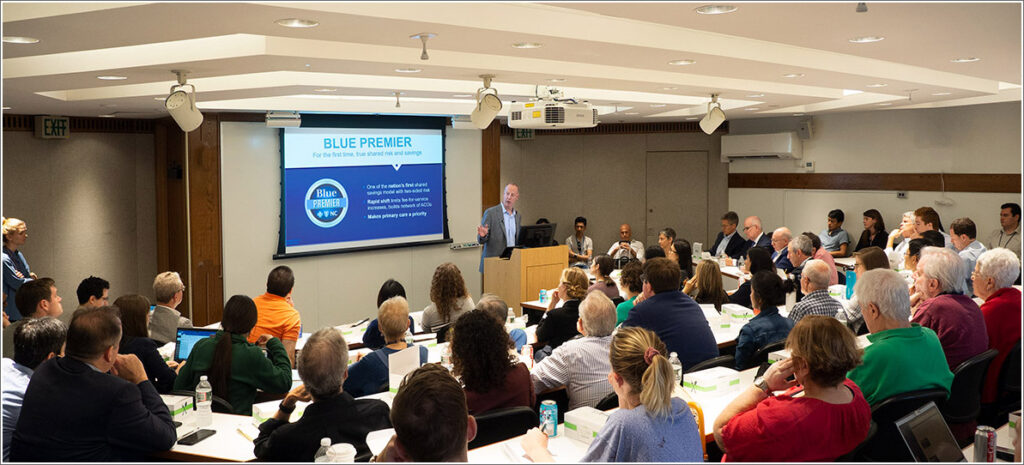 Along with his other skills and credentials, Patrick Conway, MD, MSc, the former Principal Deputy Administrator of the Centers for Medicare and Medicaid Services (CMS), Director of the Center for Medicare and Medicaid Innovation (CMMI) and current President and CEO of Blue Cross and Blue Shield of North Carolina, is particularly adept in the use of story-telling to make his points. The first one he told at Penn's Leonard Davis Institute "Transforming Health Care: Better, Simpler, More Affordable" seminar was about his own clinical encounters with childhood hunger.
Even as Conway runs the $16 billion-a-year health insurance company covering 60% of North Carolina's insured population, the former University of Pennsylvania Robert Wood Johnson Foundation Clinical Scholar and LDI Senior Fellow volunteers his services as a practicing pediatrician in the University of North Carolina-Chapel Hill Hospital.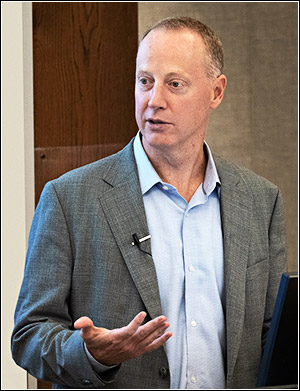 "Too frequently," he said, "we see a child admitted for inadequate weight gain and failure to thrive and one of the most common causes is lack of food at home. So, we pay $40,000 or whatever the price tag is to hospitalize the child for three days when we could have fed that same child for years for much less. It's a microcosm of how backwards our health system is and how much we under invest in the social determinants of health, or drivers of health, even as we spend more on health care than other countries."
The comments opened Conway's presentation on the changes his team has been making at Blue Cross NC since he took over as top executive in the fall of 2017. The 90-minute talk and Q&A session co-sponsored by Penn's Center for Health Incentives and Behavioral Economics (CHIBE) and the Leonard Davis Institute of Health Economics (LDI), provided an overview of the dramatic reforms Blue Cross NC has either implemented or is planning to soon implement across the state's 100 counties. Together, they constitute the most sweeping health care financing and delivery changes yet made by any of the 50 states. 
Core ACA concepts
They also echo the innovation concepts at the core of the Affordable Care Act championed by Conway in his time at CMMI where he led the charge to switch the nation's health care system from a fee-for-service to a value-based payment model.
After two years at the helm of Blue Cross NC that insures four million state residents, the physical manifestations of his vision are emerging. Eight months ago, the company launched its new "Blue Premier" program after signing deals with the state's five largest health systems. These agreements began the statewide switch from fee-for-service to value-based reimbursements linked to quality measures and lower costs at the population level in a number of provider services areas.
"It has been a partnership model," Conway told the Penn audience. "We sat with all the CEOs of the health systems and talked about how we're going to do this work together. It won't be easy. We will evaluate it as we go in both the positive effects and the unintended effects. The bottom line is that we want less unwarranted ER visits, less hospital admissions, less high-cost services and less fragmented care."
Performance risk model
However, he also pointed out that "it's important how we're switching our investment in primary care. We're not changing the fee-for-service schedule; we're paying primary care a population-based per-member/per month fee that will go up or down over time based on quality, experience and total cost of care. It's not a significant two-side risk model; it's a performance risk model because if you think about a four-doctor practice, you cannot put them at significant financial risk because it is a small business."
Conway went to explain that a fee-for-service model would continue to be used for high-end specialty services in addition to bundled payments.
A unique aspect of the Blue Premier arrangement is a joint agreement for Blue Cross to share its claims data with the contracted health systems that will, in turn, share their own clinical data with the insurer. The goal is to facilitate timely analysis on both sides aimed at more quickly and systematically identifying high-risk patients in need of more integrated care.
Scalable partners
In an overhaul of the traditional organization of primary care delivery, Blue Cross NC has partnered with a number of companies offering new sorts of health delivery services capable of being scaled into networks across the state. One of them is the Bethesda, Maryland-headquartered Aledade that links hundreds of independent primary physician practices into virtual Accountable Care Organizations (ACOs) providing a unified system of care management, data analytics, regulatory expertise and support from practice transformation experts. Another is the Boston-based Iora Health that creates networks of primary clinics using highly trained health coaches, team practices and community health worker-style methods to provide comprehensively integrated primary care and mental health services in community clinics. Three more are Caremore Health of Cerritos, California, Cityblock, whose board of directors includes Former CMS Administrator Andy Slavitt, and Quartet Health of New York whose cloud-based service supports communication and collaboration among medical and behavioral health providers.
In yet another innovation, Blue Cross has partnered with UNC Chapel Hill in a program recruiting veterans with military health backgrounds to be trained as physician assistants who can work in primary care settings throughout North Carolina's broad rural territories.
In other areas, Blue Cross NC has additionally announced it will soon roll out Medicare Advantage plans offering zero-dollar premium products for low-income seniors across the state.
First mental health chief
Conway has also hired the first Chief of Mental and Behavioral Health that Blue Cross NC has ever had.
"Most of the country's health plans have outsourced their mental and behavioral health to one of two companies that I would argue have siloed mental and behavioral health in a way that pretends it is different from the rest of health. It is not," Conway said. "One of the goals of the optimized behavioral health network we're rolling out is for any person with a mental or behavioral health diagnosis, including substance use, to get treatment in person or virtually within 7 days, preferably within 48 hours. And for serious mental and behavioral health conditions, within 24 hours."
Conway said his team had conducted searches across the country to find "a scalable, excellent outpatient substance use provider" who could operate a statewide network of evidence-based treatment clinics. But they could not find one. Two weeks ago, he announced the launch a new company in partnership with Eleanor Health that will be providing bricks and mortar outpatient substance use treatment with evidence-based methods like medication assisted therapy for opioid use disorder.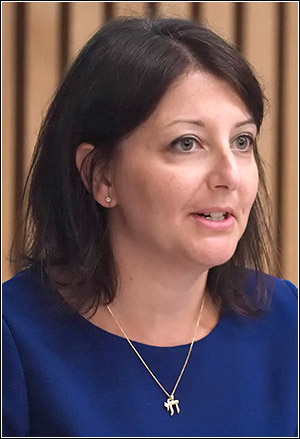 "We're starting with one clinic, then going to ten and then we'll try to scale it nationally," Conway said.
Similar reform vision
Blue Cross NC's ability to move so quickly and extensively with its new programs is made possible by a similar reform vision and philosophy shared by Mandy Cohen, MD, MPH, Secretary of the North Carolina Department of Health and Human Services (DHHS). Like Conway, Cohen served as a top executive in the Centers for Medicare and Medicaid Services (CMS) in the Obama Administration. A graduate of the Yale School of Medicine and Harvard School of Public Health she is also an adjunct Professor of Health Policy & Management at the University of North Carolina at Chapel Hill Gillins School of Global Public Health.
While the relationship between the DHHS and Blue Cross NC is arms-length and unofficial, their top executives often speak alike. Two weeks ago, Cohen told the New York Times that her agency's goal is "to buy health with our dollars, but not necessarily health care." A week later at the CHIBE/LDI seminar, Conway said the North Carolina Blues goal is "to buy health — not health care but health."
Two-thirds of NC health care
Between Blue Cross's 4 million customers and the DHHS Medicaid population, the two organizations fund over two-thirds of all health care in North Carolina giving them a rare kind of leverage with providers of all sizes.
Along with upending the traditional payment model, both are also engaged in serious innovative efforts addressing the social determinants of health that drive so much of the chronic illness that is the most expensive area of health care. A year ago, North Carolina DHHS was approved for a federal Section 1115 waiver for a $650 million pilot project to fund non-clinical services that address housing, transportation, food and interpersonal violence and toxic stress issues known to be linked to health and health outcomes.
In addition, DHHS and Blue Cross NC are creating North Carolina Care 360 (NCCARE360), a statewide program that electronically networks community-based organizations across the state to function as a coordinated system able to provide, guide and track patients to the non-clinical community resources they need. Conway is particularly interested in the food sufficiency aspect of NCCARE360 that enables clinicians to prescribe food for patients in much the same way they prescribe drugs.
Food prescriptions
"You'll order a prescription for food and tell the patient where they need to go to fill it," Conway explained. "That prescription goes to the community-based organization where the patient will pick up the food. The data system will know the pickup has happened, and you can then measure that the loop was closed. This is going to be complex but that's how you build the system around it. It should be as easy as sending a prescription for a drug to the pharmacy."
"We've got counties across North Carolina where seven out of ten children are food insecure ," Conway said. "We actually want to reduce the level of food insecurity by 20% in three years, which may not sound like a lot but is a lot — and we intend to do it. We want North Carolina to go from below average to being one of the healthiest states in the nation within a generation."