News
Penn Nursing's Alison Buttenheim Named Interim Director of CHIBE
Will Take Over In January When Founder Kevin Volpp Goes on Sabbatical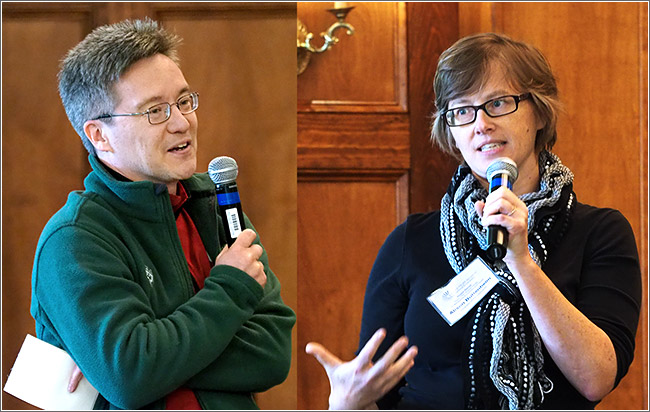 Penn Nursing School's Alison Buttenheim has been named Interim director of the Penn Medicine Center for Health Incentives and Behavioral Economics (CHIBE) effective in January when founding Executive Director Kevin Volpp goes on sabbatical.
Volpp, MD, PhD, made the announcement at the end of CHIBE's Penn/CMU Roybal P30 Center for Behavioral Economics and Health Retreat at Skytop Lodge in the Poconos last Thursday and Friday. A collaboration of Penn's CHIBE and the Carnegie Mellon Center for Behavioral and Decision Research (CBDR), the annual event brings together health economics scientists from those and other universities to discuss their latest works.
"As one of my sabbatical changes in January," Volpp told the audience at the retreat's ending session, "I am going to be stepping back from day to day involvement in CHIBE from January to August."
10-year anniversary
The move comes in the tenth year after CHIBE's founding in 2008 — a decade during which the center began as an NIH-funded Centers of Excellence project within Penn's Leonard Davis Institute of Health Economics (LDI) and rapidly expanded into a research institution of international renown.
After making the announcement at Skytop, Volpp turned the closing of the annual meeting over to Buttenheim, PhD, MBA, who has been involved as a scientist and faculty member of CHIBE since joining Penn as a RWJF Health & Society Scholar in 2009.
This development is a really important signal to us as a center, as well as to the outside world, that we have reached a stage in our evolution where we're going to be fine.

with citation
"It's often occurred to me that this Roybal Retreat could be seen as an encapsulation of CHIBE's strategic goals," Buttenheim said. "You can see our goal of advancing science in the presentations we've heard over the last two days. Our goal of developing new leaders in our field is obvious at the poster session where some of the amazing work of our trainees was vetted. Our goal of expanding CHIBE's reach and impact is there in the reports about the collaborations and partnerships that are taking our work to scale while enabling us to learn more about the scaling process itself."
Leadership and infrastructure
"Our last goal," she said, "has been to strengthen our mission-critical resources, which touches on leadership and infrastructure, and to that end I'm really excited by Kevin's sabbatical plans. He really deserves it given the ten years he has not only done his own incredible research, but also put so much time and effort into building the center from which we all benefit."
"In addition, I think this development is a really important signal to us as a center, as well as to the outside world, that we have reached a stage in our evolution where we're going to be fine. We will not burn the place down," she said to a round of audience applause and laughter.
"In his presentation last night," Buttenheim continued, "David Asch (Executive Director of Penn Medicine's Center for Health Care Innovation) encouraged us to think analogically; the analogy that's relevant here is the Jewish Sabbath. The term comes from the same root as 'sabbatical.' What I love as a non-Jew and non-Sabbath keeper about the Sabbath is how it marks a very different moment in time separated from the rest of the week. That is accomplished with very deliberate rituals and routines that enable a pause before a return to regular work, rested and reinvigorated. So I will, as Interim Director, call upon all of you to help me establish those routines and rituals that signal to all that this is a time of new opportunity and great promise in our work as we wish Kevin good sabbath."
Along with her work at CHIBE, Buttenheim is also an Associate Professor of Family and Community Health at the Penn School of Nursing and Health Policy at the Perelman School of Medicine.
She graduated magna cum laude from Yale University with a BA in History, earned an MBA from the Stanford University Graduate School of Business, and a PhD in Public Health from the University of California, Los Angeles, majoring in Community Health Sciences with a minor in Sociology/Demography. She also completed a postdoctoral fellowship at the Office of Population Research at Princeton University before joining Penn.