Health Care Access & Coverage
News
Penn Team Wins $6.4 Million NIMH Implementation Science Grant
Four-Year Project is First To Explore Combining Behavioral Economics and Implementation Science
A team of University of Pennsylvania health services researchers has received a $6.4 million National Institute of Mental Health (NIMH) grant to establish a first-of-its-kind center to explore how behavioral economics and implementation science can be combined to improve mental health care treatments.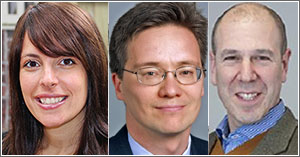 The four-year grant will establish a "Advanced Laboratories for Accelerating the Reach and Impact of Treatments for Youth and Adults with Mental Illness" (ALACRITY) center co-directed by Penn Medicine faculty members and LDI Senior Fellows Rinad Beidas, PhD; David Mandell, ScD; and Kevin Volpp, MD, PhD.
CHIBE and CMHPSR
The new research entity will be collaboratively administered by Penn's Center for Mental Health Policy & Services Research (CMHPSR) and the Center for Health Incentives & Behavioral Economics (CHIBE). Its work will bring together two groups of faculty researchers steeped in the previously separate worlds of mental health care and behavioral economics. The latter is a relatively new field that uses incentives and other scientifically determined "nudges" to change the behavior of both patients and the clinicians and family members who are involved in their care.
"We haven't figured out the best ways to get evidence-based practices implemented in our field," said Beidas, an Assistant Professor of Clinical Psychology in Psychiatry at Penn's Perelman School of Medicine and Director of Implementation Research at CMHPSR. "This represents a unique opportunity to apply the principles of behavioral economics to further advance the science of implementation as it relates to evidence-based mental health treatment."
'High-impact studies'
In announcing the grant, the NIMH explained the goal was to "support transdisciplinary teams of clinical and mental health services researchers to engage in high-impact studies that will significantly advance clinical practice and generate knowledge that will fuel transformation of mental health care in the United States (addressing) major mental health problems observed among children, youth, and adults and foster innovative research aimed at increasing the effectiveness of existing interventions, improving delivery and quality of evidence-based services, and accelerating the diffusion, implementation, and continuous improvement of new practices in diverse settings."
"This project," said Beidas, "is built upon the foundation of a three decade-long partnership with the City of Philadelphia's public mental health system. This work is not possible without the support of that partnership."
"There is a huge research-to-practice gap in health care," Beidas continued. "We know that it takes 17 years for 14% of research findings to make their way into practice. That's as true in psychiatry, if not more true. I often give the example of Cognitive Behavioral Therapy (CBT), which is the evidence-based gold standard treatment for a number of psychiatric disorders developed in the 1960s by Aaron Beck, MD, professor emeritus in the Department of Psychiatry at the University of Pennsylvania. Yet most people don't have access to CBT in community settings. That's why this work is important."
Innovation tournaments
Beidas explained that over the last five years, Penn researchers have been studying and surveying clinicians within Philadelphia's public mental health system and found that many of them don't feel rewarded or recognized for their use of evidence-based practices. One of the new ALACRITY project studies will use "innovation tournament" techniques to ask all those clinicians for specific suggestions about how their organization could most effectively incentivize the use of evidence-based methods. "Then, we're going to pair them up with behavioral economics experts so their ideas can be tested in future trials," said Beidas.
In the last several years at Penn, the use of innovation tournaments focused on various aspects of health care delivery has been pioneered by CHIBE as well as the Penn Medicine Center for Health Care Innovation.
ALACRITY's Methods Core, run by Alison Buttenheim, PhD, MBA, Associate Professor of Family and Community Health at Penn's School of Nursing, Steven Marcus, PhD, a Research Associate Professor of Social Work at Penn's School of Social Policy and Practice, and Nathaniel Williams, PhD of Boise State will serve as an incubator for designing innovative implementation strategies including innovation tournaments and other forms of participatory — or crowd-sourced — design. Buttenheim and Marcus are both also LDI Senior Fellows.
'Important lived knowledge'
"In the past," said Beidas, "the field assumed that clinicians didn't know how to do evidence-based practices and that training would solve that knowledge gap. We now understand that training alone does not change behavior. This is an effort where we use participatory design to hear clinicians' ideas and incorporate their very important lived knowledge into our search for practical and effective solutions that can push evidence-based implementation forward."
A second project, led by Marcus, Volpp, and Mark Olfson, MD, of Columbia University will focus on how to use behavioral economics principles to improve medication adherence among patients who have been newly diagnosed with depression. Currently it takes about four to six weeks for the initial round of antidepressants to take effect and it is not uncommon for patients to cease their meds after a couple of weeks given the delay in symptom relief.
A third ALACRITY project led by Mandell and Melanie Pellecchia, Assistant Professor of Psychiatry at the Hospital of the University of Pennsylvania will focus on the issue of data collection practices among clinicians who work with autistic children. One of the core evidence-based practices calls for clinicians to collect ongoing data about the patients' behavior because that information can inform future diagnoses and therapy decisions. But the staffers often don't collect the data. The researchers will develop an app that can support data collection and uses social norms and pressures to increase use of data collection.
"We are excited about the opportunity to leverage all of the interesting findings coming out of the behavioral economics and health literature and to apply them to implementation science and evidence-based psychiatric interventions," said Beidas.