Health Equity
News
Shreya Kangovi Wins Health Equity Award from RWJF and National Civic League
Cited For Her Community Health Workers Program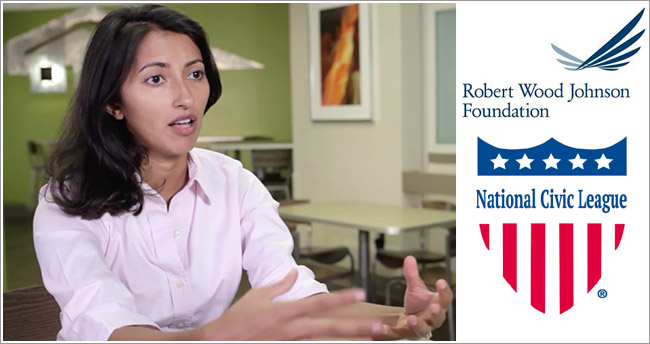 Penn Medicine Associate Professor and LDI Senior Fellow Shreya Kangovi, MD, MSHP, is the recipient of the 2019 Award for Health Equity from the Robert Wood Johnson Foundation (RWJF) and the National Civic League. The annual award recognizes individuals who have "changed systems and policies at a local level to increase the chance that everyone has a fair and just opportunity to live the healthiest life possible," according to RWJF.
Kangovi was honored for her decade of work as founding Executive Director of the Penn Center for Community Health Workers, a program based on her decade-long research project, "Individualized Management of Patient-Centered Targets" (IMPaCT). An evidence-based health care delivery system, IMPaCT hires, trains and manages teams of people from low-income neighborhoods like West Philadelphia to function as health system facilitators for high-risk members of their own communities.
Greater access
The system has been proven to broaden access to primary care for populations that previously had difficulty navigating a health system. It also measurably improved the quality of care and mental health while reducing hospitalizations in low-income urban communities.
Along with being adopted and funded as a permanent program within the University of Pennsylvania Health System, the IMPaCT model has since been adopted by health care systems across the country.
The National Civic League cited Kangovi as "an exceptional leader who has pushed the boundaries of thinking about what is possible in health care through community engagement." Its journal, the National Civic Review, noted "the award recognizes individuals who have successfully implemented a systems-change approach within the past two years to improve health outcomes for those most impacted by health disparities."
Local level changes
RWJF launched the national award program in 2015 in partnership with public health, health care, social justice and other community organizations that serve as judges and select the winners. The effort is part of the RWJF's national "Building a Culture of Health" initiative.
The Denver-based, 126-year-old National Civic League is a professional non-profit organization of civic leaders working to encourage government support and adoption of more inclusive and equitable practices and programs in health care and other areas of daily community life.
The other organizations that selected the recipients of the 2019 Health Equity Award are the National Association of Free and Charitable Clinics, Leading Age, Hispanics in Philanthropy, National Recreation and Park Association, Community-Campus Partnerships for Health, AIDS United, Youth MOVE National, and the Asian & Pacific Islander Caucus for Public Health.