News
Two Penn Med Students Win LDI William Kissick Policy Research Award
Olivia Bernal and John Logan Brock Cited for Research Papers
University of Pennsylvania Perelman School of Medicine MD candidates John Logan Brock and Olivia Bernal have been named the 2019 winners of the Leonard Davis Institute's William L. Kissick Health Policy Research Award. The annual honor goes to students who have accomplished "meritorious research in the field of health services research."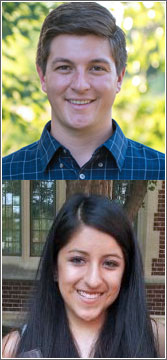 Opioids and patient care
Brock, an MD/MBA Candidate at the Perelman and Wharton Schools won the award for his paper "Postoperative opioid cessation rates based on preoperative opioid use: Analysis of common orthopedic procedures" the content of which was presented in March at the American Academy of Orthopaedic Surgeons Annual Meeting under the title "Orthopaedic Surgeries Decrease Chronic Opioid Use: The Relationship Between Preoperative and Postoperative Use Patterns."
Bernal, an MD/MPH Candidate at Perelman, won for her paper "Patient Satisfaction and Perceived Quality of Care among Younger Medicare Beneficiaries According to Activity Limitation Stages" published in the Archives of Physical Medicine and Rehabilitation.
The award is named for the late William Kissick, a former professor of both Medicine at Penn's Medical School and Health Care Management at The Wharton School. An early guru in the field of health management studies, Kissick was instrumental in establishing the University's Health Policy Program within LDI.
Medical device entrepreneurship
Brock received his BA in Neuroscience in 2013 from the University of Colorado at Boulder. He is currently an advisor on orthopaedic medical devices for EDGe Surgical, Inc., and a Strategy Associate at Innoblative Designs, a firm that is developing a venture-capital based startup in the oncology device field. He is also the former Co-Vice President of Curriculum at Penn HealthX, a Perelman School student organization focused on health care entrepreneurship.
Bernal received her BA in Biological Basis of Behavior from Penn in 2012. She previously served as a Clinical Research Coordinator at Children's Hospital of Philadelphia, and as a tutor in high school physics, pre-calculus and calculus at Math Masters.
The pair will split the $500 prize that accompanies the annual award whose recipients were selected by the Medical Student Research Prize Committee headed by Marilyn Schapira, MD, MPH, Professor of Medicine and LDI Senior Fellow.
---
PREVIOUS WINNERS OF THE LDI KISSICK POLICY RESEARCH PRIZE
2010 Adam Lessler, MD, MBA 
2011 Peter Derman, MD, MBA 
2012 Michael Sargen, MD 
2013 Nora Becker, MD, PhD
2013 Morgan Sellers, MD 
2014 Andrew Fisher, MD, MBE  
2015 Jing Ren, MD 
2015 Aaron Richterman, MD 
2016 Ari Friedman, MD, PhD
2017 Tianyu Liu, BA 
2018 Daniel Arenas