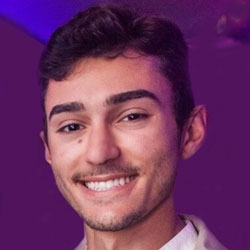 Alexander Auchus
Alexander Auchus majored in Psychology at the University of Pennsylvania. He grew up mostly in Jackson, Mississippi, where he was first exposed to health disparities that affect rural communities. There, he shadowed a physiatrist at the first clinic in Mississippi to specialize in LGBTQ+ health care. He also completed an independent study that attempts to increase PrEP use by cisgender women, a population that has been shown to be particularly difficult to engage in PrEP care.

During SUMR, Auchus continued his studies in health disparities with his mentor Dr. Carmen Guerra, MD, MSCE. He worked on two of Dr. Guerra's projects, the ACC Clinical Trails Ambassador Program and Lazarex Improving Patient Access to Cancer Clinical Trials. The ACC Clinical Trials program aimed "to train a cohort of cancer survivors and caregivers of patients with cancer on how to engage with primarily African American communities in conversations about cancer and the importance of cancer clinical trial research participation". Similarly, the Lazarex program aimed "to identify the barriers of and facilitators to completing reimbursement requirements of adult patients participating in the Lazarex Financial Reimbursement Program." By working on two projects that attempted to reduce racial disparities in cancer clinical trial participation from different angles, he gained significant insight into the complex ways in which population health disparities are addressed.

He believes the SUMR experience was an invaluable learning experience that will further his career goals. He also hopes to continue to pursue research in health disparities, particularly disparities that affect LGBTQ+ and other underrepresented groups.
Videos & Links
Presentation Slides