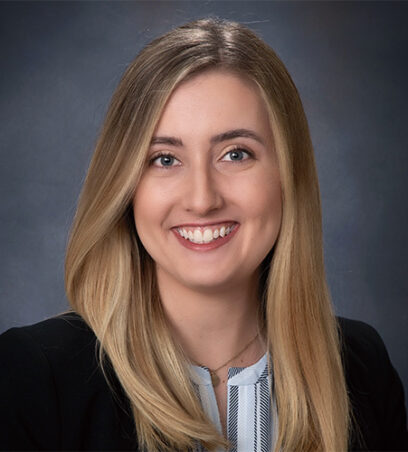 Alexandra Schroeder
Alexandra Schroeder is a dual-degree student, pursuing a Doctorate of Dental Medicine (DMD) and a Master's of Public Health (MPH) at the University of Pennsylvania. During her undergraduate career at the University of Maryland, Schroeder investigated the levels of oral health literacy among low-income mothers, as well as their access to toothbrushes and fluoridated toothpaste. The project's ultimate goal was to provide evidence for the inclusion of oral hygiene resources in federal programs such as WIC and SNAP. In her first year of dental school, Schroeder lobbied Pennsylvania senators and representatives on Capitol Hill for Medicaid expansion of dental benefits. Schroeder aspires to continue to research public health issues and advocate for her patients as a public health dentist.
Schroeder collaborated with two mentors for the duration of the SUMR fellowship. Alongside Dr. Molly Candon, PhD, Schroeder performed reviews of the literature and policy landscape to refine the curriculum for the Wharton MBA course, "The Business of Behavioral Health". Schroeder also developed a written commentary outlining a potential roadmap for value-based oral health care. Additionally, Schroeder is participating in community-partnered research on a contract between the Penn Center for Mental Health and the City of Philadelphia's Department of Behavioral Health, which focuses on the relationship between housing availability and suicide rates. With her other mentor, Dr. Rebecca Clark, PhD, RN, Schroeder investigated disparities in maternal mortality in Philadelphia by merging patient, provider, hospital, and community-level datasets using descriptive and comparative statistics. Furthermore, she helped incorporate the information into the preparation of manuscripts and grant proposals.
Schroeder is also collaborating with a community of other pre-and post-doctoral fellows, faculty, and research assistants in the Center for Health Outcomes and Policy Research (CHOPR). In dental school, Schroeder is involved in the American Student Dental Association locally and nationally. She serves as the president elect of Penn Dental's ASDA chapter and as the Director of communications for mid-Atlantic region. In her free time, Schroeder enjoys reading novels, creating videos, and exploring the city.
Presentation Slides
Video