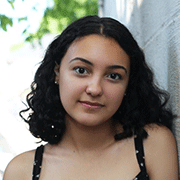 Claudia Hejazi-Garcia
Claudia Hejazi-Garcia is majoring in Neuroscience and Health Care Management at the University of Pennsylvania. Originally from northeast Ohio, Claudia Hejazi-Garcia her passion for health care by building medical devices at the Cleveland Clinic and working with health policy experts to examine how medical devices could become accessible and affordable to all patients. This experience helped her realize that she wanted to combine her passions for medical research and health policy. After graduation, Hejazi-Garcia plans on attending medical school and becoming a physician to represent and support patients of color in health care.
During SUMR, Hejazi-Garcia worked on a project with her mentor Tyra Bryant-Stephens, MD. Currently, one in four children in West Philadelphia lives with asthma. Dr. Bryant-Stephens and her team support these children by facilitating in-home classes and providing families with supplies to mitigate asthma triggers in their home environments. Hejazi-Garcia focused on developing a curriculum to teach families the best ways they could help support their children who live with asthma.
At Penn, Hejazi-Garcia is involved in the Wharton Undergraduate Healthcare Club (WUHC), which intertwines both medicine and business. In WUHC Impact, she works with her team to develop a health care management curriculum to be taught to high schoolers in West Philadelphia over eight weeks in the semester. With the Penn Healthcare Review, Hejazi-Garcia serves as Co-Editor-in-Chief and recently published an issue about health care and business reform in the United States. In her free time, Hejazi-Garcia enjoys listening to crime podcasts, driving aimlessly in her Rav4, and spending time with her friends.
Presentation Slides
Video