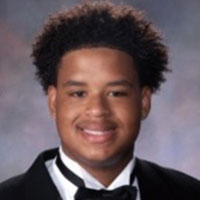 David Wilborn
David Wilborn is a senior pursuing a BS in Biochemistry at the University of Michigan, Ann Arbor. With a passion for justice and interests in biomedical research and health policy, Wilborn strives to learn more about what's required to do research and disseminate therapeutics equitably and ethically, and the policies that regulate this. He plans to attend medical school and aspires to work as a physician scientist while being a clinical ethicist.
During SUMR, Wilborn worked with Steven Joffe, MD, MPH on analyzing the disparities in FDA approval of solid tumor cancer drugs for advanced disease versus those approved for potentially curable localized disease.
Wilborn serves on Michigan Medicine's Bioethics Committee where ethics consultations regarding patients are discussed along with other ethical dilemmas such as the distribution of therapeutics. He also works in a neuro-immunology lab where he does research on the immune system's impacts on regeneration of the central and peripheral nervous systems. In his free time, he enjoys reading philosophy, listening to hip-hop music, and powerlifting.
Presentation Slides
Video