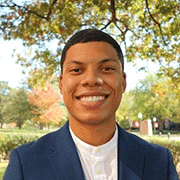 Devin Brown
Originally from San Antonio, Texas, Devin Brown is studying Foundational Sciences of Life in the Universe with minors in Spanish and Public Health at the University of Oklahoma. After graduating, he plans to go to graduate school to obtain an MPH before going to medical school. In his future career, Brown hopes to combine medicine, public health, and teaching to eliminate health disparities in medically underserved communities.
During SUMR, Brown worked on two research projects. With Kevin Volpp, MD, PhD, he helped develop and conduct pilot tests that utilized behavioral science approaches to reduce the risk for atherosclerotic cardiovascular disease in two African American communities in Philadelphia. With James Guevera, MD, MPH, he utilized automated hovering to improve literacy in young low-income children, with an overall goal of further developing their language and socio-emotional skills.
At the University of Oklahoma, Brown serves as Chair of Miracle Mindset, which is a college access program that serves first-generation and low-income high school students in the state of Oklahoma in an effort to build bridges between these communities and higher education. He is also an intern for Diversity Enrichment Programs where he recruits and connects with high school students from underserved and underrepresented communities. Additionally, he serves as a Peer Educator in the Gender & Equality Center on campus where he facilitates presentations discussing consent and healthy relationships as a means to combat gender-based violence on college campuses. Outside of involvement on campus, he volunteers for Big Brothers Big Sisters, loves hiking and being outdoors, and spending quality time with the people in his life.
Presentation Slides
Video