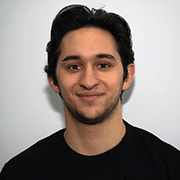 Karim Farhat
Karim Farhat is majoring in Economics while also following a Pre-Med track at Cornell University. After living in Lebanon for over a decade, he has developed a sincere interest in providing health care access to oppressed and impoverished communities. He is particularly interested in the issues of universal health care, and how it could contribute to ending the "deaths of despair" epidemic. After graduation, he hopes to attend medical school and pursue a career as a community-oriented physician advocating for a more holistic approach to health care.
During SUMR, Farhat worked on two projects. With Atheendar Venkataramani, MD, PhD, Farhat took an in-depth look at the opioid epidemic by using state-level data to assess the effectiveness of economic opportunity zones in curtailing opioid use. With Ari Friedman, MD, PhD, and Matthew McCoy, PhD, Farhat looked at how health information was being collected when accessing health-related websites. The expansion of online medicine has created a minefield of privacy issues that have yet to be confronted, and he is grateful to have been part of a team dedicated to developing solutions.
Outside of academics, Farhat is a part-time EMT in Brooklyn, NY, transporting patients all through the pandemic. At Cornell, he is president of Cornell Arab Students and is the head economic analyst for the biomedical engineering project team, Cornell DEBUT. In his free time, Farhat enjoys reading French and Russian literature, watching classic movies, working out, and following the sport of Strongman as well as his beloved New York Knicks.
Presentation Slides
Video