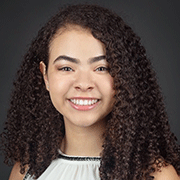 Kayla McLymont
Kayla McLymont is majoring in Public Health at Brown University with plans to pursue an MPH and an MD. McLymont is particularly interested in behavioral health and health care disparities within marginalized communities. She hopes to use her public health and health policy research to better serve underrepresented communities as a physician.
During SUMR, McLymont worked on two research projects. With Daniel Teixeira da Silva, MD she investigated health care outcomes in COVID-19 and HIV among people who experience incarceration, specifically those who are racial and ethnic minorities, compared to community-dwelling patients. The goal of the project was to assess the impact of disparities within prisoner populations on racial inequity in COVID-19 and HIV treatment outcomes. She also worked with David Lydon-Staley, PhD on a project that used ecological momentary assessments to monitor the momentary movement behaviors of young children and their caregivers. The goal of the project was to identify the ways in which children's biopsychosocial factors and caregiver relationships influence movement behaviors and self-regulation.
Outside of academics, McLymont enjoys volunteering with the Providence Youth Advocacy to provide mentorship and outreach to at-risk children staying at family homeless shelters. She also loves exploring her Brazilian background through studying Portuguese, engaging with her local community, and cooking traditional food. In her free time, she likes to read, play the piano, and spend time with friends.
Presentation Slides
Video