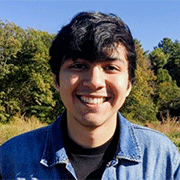 Miguel Medrano-Piedra
Miguel Medrano-Piedra is concentrating in Public Health at Brown University. He was also recently admitted to the Brown University School of Public Health where he will obtain his MPH. Health equity and social determinants of health have always been deep interests to him. He hopes to use the knowledge and experience he gains over the next several years to help those in his community.
During SUMR, Medrano-Piedra worked on two research projects. A project with Allison Willis, MD, MS aimed to identify and characterize barriers to equitable care and safe prescribing for Parkinson disease patients. He also worked with Raina Merchant, MD, MSHP and Elissa Klinger on the Bold Solutions Regional Health Equity Initiative.
At Brown, Medrano-Piedra is a program coordinator for Project LETS which focuses on mental health. He is also a member of the Bonner Community Fellowship through the Swearer Center where he serves as a Swearer Fellow and works alongside the program managers. Additionally,
Medrano-Piedra assists with two different research projects at Brown.
Presentation Slides