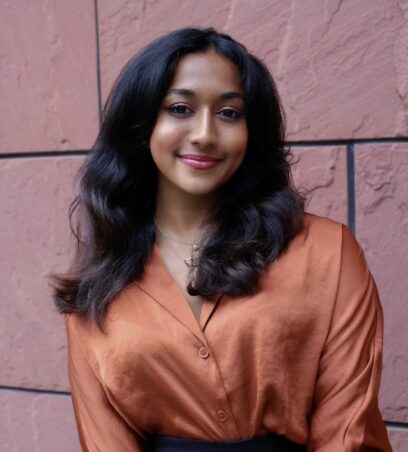 Neila Kalipersad
Neila Kalipersad is a junior majoring in Health and Societies with a concentration in Bioethics and minoring in East Asian Languages and Civilizations as well as Chemistry at the University of Pennsylvania. Kalipersad has a distinct interest in developing a deeper understanding of ethical principles and how they apply to real-world situations. She aims to foster a community that exposes you to diverse perspectives, promotes interdisciplinary collaboration, and encourages creative problem-solving. After graduation, Kalipersad hopes to attend medical school to become a physician that uplifts and serves her community. During SUMR, Kalipersad worked on two research projects.
With Arnold Rosoff, Robert I. Field, and Anthony W. Orlando, Kalipersad examined the crucial and rapidly expanding field of genetically-based biomedical research and the causes and effects of its longstanding racial and ethnic disparities and inequities. With Dr. Arina Chesnokova, she assisted in eliciting goals, priorities, and preferences for the treatment of symptoms of menopause among women diverse in race and in clinical diagnoses, as well as developed a prototype of a menopause decision support tool to be used in clinical encounters to facilitate decision making around treatment for menopausal symptoms.
At Penn, Kalipersad serves as a residential advisor for College Housing and Academic Services and works diligently to create a welcoming community for her residents. She also works as a library desk assistant at Holman Biotech Commons. In her free time, she competes and performs for the Penn Figure Skating Club.
Presentation Slides
Video