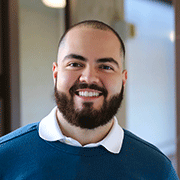 Omar Husni
Omar Husni is studying Medical Anthropology and Health & Societies with a focus on Global Health at the University of Pennsylvania. He is pursuing a graduate degree in public health at the University of Pennsylvania and will later apply to MD and PhD programs that focus on medical anthropology. Before moving to New Jersey, he was born and raised in Egypt and also lived in Chile. After experiencing health disparities through family members in all three countries, he was determined to increase access to affordable, quality care to communities that are underserved and affected by socioeconomic determinants of health.
During SUMR, Husni worked on two research projects. At the Abramson Cancer Center, he worked with Carmen Guerra, MD, MSCE on a project aiming to understand some of the barriers and facilitators to enrollment in the IMPACT program, a program geared towards increasing access to clinical trials for cancer patients. Husni also worked on a mixed-methods project with Peter Cronholm, MD, MSCE, FAAFP at the Mixed Methods Research Lab. The project used interviews, qualitative analysis on NVivo, and collaborative work with a team of researchers at MMRL to create meaningful understandings about the perspectives of patients and providers.
Husni is determined to address the health needs of local communities. After conducting a Community Health Needs Assessment (CHNA) of the Cobbs Creek community in West Philadelphia, he is partnering with Sayre Health Center to establish the Sayre Community Center in Cobbs Creek – a space intended for community leaders and members to bring opportunities to local residents. At the University of Pennsylvania, Husni volunteers at Sayre Health Center and facilitates the Peer Advising Program in the College of Arts & Sciences as a Peer Manager and Peer Advisor. He is also a tour guide in the Kite & Key Society, and a proud member of the CIPACTLI Hispanic Honor Society.
Presentation Slides
Video