News
2014 LDI Fall Kickoff Report
Meet the 15 New LDI Senior Fellows
The Leonard Davis Institute of Health Economics (LDI) held a speed-dating-like "Fall Kickoff" that invited the newest LDI Senior Fellows to introduce themselves with five minute presentations. This time limit was rigidly enforced with a digital timer and very loud buzzer system manned by LDI Co-Director of Research, Peter Groeneveld, MD, MS. Participants were asked to offer personal "fun facts" as well as descriptions of their backgrounds and research. The packed-house event was held in the Moelis Terrace of Penn's Van Pelt-Dietrich Library. Here is a photo, text and audio report on each senior fellow's presentation.
1. Jessica Dine, MD
Assistant Professor of Pulmonary, Allergy, and Critical Care Medicine, Perelman School of Medicine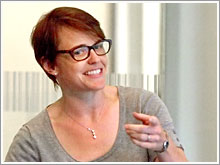 INFLUENCING PHYSICIAN BEHAVIOR
Jessica Dine is a Germanophile who grew up near Bavaria's picturesque mountaintop Schloss Neuschwanstein — the quintessential example of romantic castle architecture that Walt Disney copied for Disneyland's Sleeping Beauty Castle. Also an Associate Program Director for Penn Medicine's Internal Medicine Residency Program and Chair of the Clinical Competency Committee, Dine is very focused on medical education research. She has become increasingly interested in health services research and studying how practice patterns develop. "I'm focusing on how to educate physicians and how to influence their behavior," she said. | See bio page |
---
2. Rinad Beidas, PhD
Assistant Professor of Psychology in Psychiatry, Perelman School of Medicine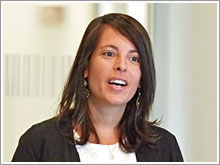 COGNITIVE BEHAVIORAL TREATMENT OF CHILDHOOD ANXIETIES
Three big issues in Rinad Beidas's personal life at the moment are two dogs that bark a lot and a little boy who can't sleep because of that. She wondered if anyone in the audience knew Cesar Milan, the famed dog whisperer who might help her solve the problem. In her professional life, Beidas is a child clinical psychologist who is interested in cognitive behavioral treatment of child anxieties and implementation science. She's currently in the third year of an NIH-funded study of how how best to implement evidence-based practices for children in community settings. "So, I've spent a fair amount of time in 23 public mental health agencies throughout Philadelphia," she said. | See bio page |
---
3. Hans-Peter Kohler, PhD
Professor of Sociology, Penn School of Arts and Sciences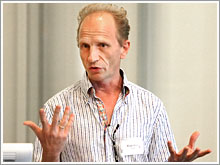 THE INTERSECTION OF GLOBAL HEALTH AND DEMOGRAPHY
When Hans-Peter Kohler recently decided to take a sabbatical after ten years of work at Penn's Population Studies Center, he didn't set out for an exotic location. Instead, he simply crossed Locust Walk to spend his period of leave at LDI. "I have a strong interest at the intersection of global health and demography," he said. "I wanted to strengthen my personal and institutional ties with health economics groups, health policy groups, implementation science and global health initiatives that all cross paths in LDI." Kohler has been involved in the Malawi Longitudinal Study for Family and Health in southeast Africa. "It was out of that that my interest in global health grew," he said. He's been investigating HIV and aging in low-income countries as well as the manner in which fertility levels may reshape those countries. | See bio page |
---
4. Andre Konski, MD, MBA, MA, FACR
Clinical Professor of Radiation Oncology, Perelman School of Medicine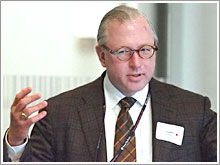 ACA's IMPACT ON HOSPITAL RADIOLOGY DEPARTMENTS
The four ice cream making machines that Andre Konski keeps in his home are only part of his food-related interests. He tends a 900-square-foot area of the Chestnut Hill Community Garden and cans his own pickles, peppers, beets and tomato sauce. Back at Penn's facility in Chester County where he practices, the radiation oncologist is studying how the cost-cutting provisions of the Affordable Care Act may affect funding and revenue for radiotherapy departments. "Most hospitals depend on radiotherapy departments to generate revenue for the rest of their oncology program," he pointed out. "We have to find some way to quantify value in radiation oncology," he continued. "We pay based on codes, not on outcomes. So, I can be the best radiation oncologist and get paid the same as the worst radiation oncologist." | See bio page |
---
5. Ross Koppel, PhD, FACMI
Adjunct Professor of Sociology, School of Arts and Sciences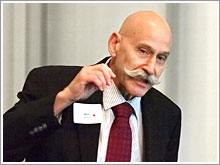 MEDICAL INFORMATICS SYSTEMS
Emphasizing that he is very involved in applied sociology, Ross Koppel noted that one of his most "singular projects" grew out of a 2004 study documenting how Boston's sprawling transit system failed to safely accommodate disabled persons. His findings played a major role in achieving the settlement that forced the Massachusetts Bay Transportation Authority (MBTA) to spend huge amounts to renovate its fleets. Koppel, who has been teaching at Penn for 23 years, is also very involved with the study of medical informatics systems and how they are manipulated. "Because doctors hate killing patients, they use work-arounds to avoid the lousy health care IT that I study," he said. He's currently working on a study with the National Security Administration (NSA) of work-arounds related to cyber-security systems. "It's fascinating," he said. "Nobody remembers their passwords. Everybody hates logging in." | See bio page |
---
6. Meghan Lane-Fall, MD, MSHP
Assistant Professor of Anesthesiology and Critical Care, Perelman School of Medicine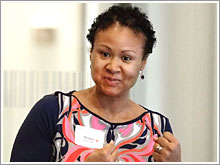 THE BOTCHED HOSPITAL HANDOFF
Illustrating a dynamic of both her home and hospital life, Meghan Lane-Fall told the story about how her husband Sulieman cooked a sumptuous one-pot West African dish and how she forgot to carry out her task of putting the leftovers away before they spoiled. "This," she noted, "is a hand-off. We botched the hand-off. This is what I study." Lane-Fall is an expert in the area of hospital teamwork and communication — or lack thereof. She specializes in studying how patients are handed off from one provider department to another. "My problem statement is that patients experience preventable harm as a result of ineffective communication between providers and providers and patients." Currently, she's studying physician and nurse staffing in cardiac ICUs and trying to relate staffing models and communications to patient outcomes. | See bio page |
---
7. Frank Leone, MD, MS, FCCP
Associate Professor, Medicine, Perelman School of Medicine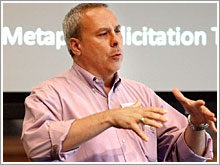 SMOKERS' DECISION MAKING PROCESSES
"If you're a lung doctor and you interface with people who smoke, your attention is generally down here somewhere," Frank Leone said, pointing to his own lower chest. "But about 15 years ago, I took a left turn and actually started thinking about what's going on up here," he said with a tap to the cranium. Leone, the Director of Penn's Comprehensive Smoking Treatment Program, studies the decision-making processes of both smokers and the health care professionals who treat them. His latest project targets e-cigarettes: "People are using e-cigarettes like it's going out of style," he noted. "They're making this decision on some basis that has nothing to do with the therapeutic value of the device. We need to understand why so we can change our messages in the clinic to resonate with the things that are important to (these patients)." | See bio page |
---
8. E. Carter Paulson, MD, MSCE
Assistant Professor of Surgery, Philadelphia VA Medical Center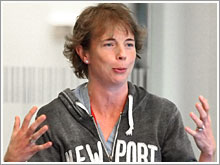 COLORECTAL SURGICAL GUIDELINES
Along with eschewing the use of her first name,"Emily," E. Carter Paulson is passionate about golf and her two young children. The native of Newport News, Va., is a member of the Department of General Surgery at the Hospital of the University of Pennsylvania and has a clinical practice in colorectal and general surgery at the Philadelphia VA Medical Center. She's currently studying guideline adherence in her specialty. "There are a lot of guidelines out there for staging treatment and surveillance of colorectal cancer but its unclear how that varies across the patient population," she said. "Also unclear is the cost of survivorship care and the variation in surveillance for patients who are living five to ten years after their surgeries. That's what we're starting to look at." | See bio page |
---
9. Jennifer Prah Ruger, PhD, MSc, MA, MSL
Associate Professor of Medical Ethics & Health Policy, Perelman School of Medicine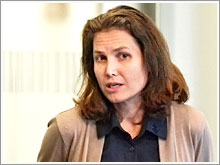 GLOBAL HEALTH CARE DISPARITIES
As a teacher, researcher and author of books such as "Health and Social Justice" and "Global Health Justice and Governance," Jennifer Prah Ruger's work has focused on the ethics and economics of health care disparities around the world. She's part of a group that has studied health system financing and economic welfare among the poor in Vietnam and South Korea. "We were trying to understand the kinds of coping strategies people were using in respect to the different kind of health shocks that they had," she said. In another project, she and her colleagues were investigating the disparities found around the world in under-five mortality rates. They found that the worse-off country for that metric was South Africa. She is also involved in economic evaluation projects focused on interventions for women and HIV and STD prevention. | See bio page |
---
10. Natalya Vinokurova, PhD, MPhil
Assistant Professor of Management, The Wharton School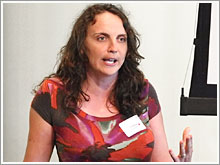 CHANGES THAT DROP CARDIAC SURBERY MORTALITY RATES
Natalya Vinokurova, a native of Minsk in what is now the independent country of Belarus, noted that despite growing up just 120 miles from Chernobyl, "I don't glow in the dark but I do study disasters." Vinokurova studies decision and implementation science as it relates to both medicine and economics. For instance, her study of the complex, long-term decision process that led to the U.S. mortgage market meltdown makes her, "the only person in the room who knows more about mortgage-backed securities than the average Wharton finance professor." She is now investigating how the wide variance in mortality rates among cardiac surgery patients evolved over fifty years and how dozens of states — even now — fail to implement changes known to dramatically drop cardiac surgery mortality rates in hospitals that previously had the highest rates. | See bio page |
---
11. Allison Willis, MD, MSCI
Assistant Professor of both Neurology and Epidemiology & Biostatistics, Perelman School of Medicine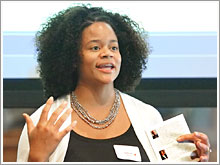 OUTCOMES IN NEUROLOGICAL DISEASE POPULATIONS
As a newly-minted neurologist at Washington University determined to be an environmental epidemiologist, Allison Willis dove into the work of studying how metal toxicity related to the development of Parkisonism. Then she won an NIH KL2 grant that exposed her to the multidisciplinary world of outcomes research, health disparities research and health policy research. "It really changed my career," she said. Her new target became the study of outcomes in neurological disease populations, a field that is, she said, two decades behind fields like cancer and cardiology in outcomes and disparities research. Currently, she is looking at "outcomes related to provider factors, patient level factors and what happens to the rest of the person once they're diagnosed with Parkinson's Disease." | See bio page |
---
12. Atul Kamath, MD
Assistant Professor of Orthopaedic Surgery, Perelman School of Medicine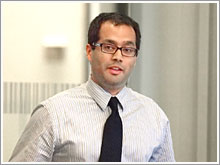 BEHIND IN IMPLEMENTATION SCIENCE AND COST METRICS
Reconstructive hip and knee surgeon and Director of the Penn Medicine Center for Hip Preservation, Atul Kamath's fun fact was that he almost didn't go to medical school because of his strong desire to be a professional musician. Now, one of the reasons he's glad he did become a physician and health services researcher is the broad research opportunities presented by the field of orthopedics. "We're at least 30 years behind the others in terms of things like implementation science and cost metrics," he said. "We are doing bundled payments and other different payment models with hip and knee care but topics like general and ethnic disparities, patient satisfaction and patient perceptions have not been done in a very robust, systematic way in orthopedics." | See bio page |
---
13. Kevin Mahoney
Vice President and Chief Administrative Officer, University of Pennsylvania Health System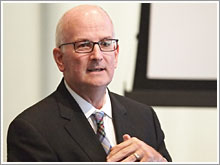 SUPPORT FOR SENIOR FELLOWS FROM PENN MEDICINE
For his personal fun facts, Kevin Mahoney noted that he was one of eight children and has four dogs and three children of his own: Erin, who was recently making a documentary in Bosnia; Brendan, a U.S. Army Ranger; and Colin, an urban farmer in Washington, D.C. Mahoney emphasized that his office can provide various sorts of assistance to LDI Senior Fellows who are organizing new projects. "I can put you in touch with a lot of people here and I can give you access to all levels of the university health care center," he said. "I can help with financial resources. I am nothing if not a soft touch," he said to a cascade of audience laughter. "If you have an idea that you just need a little bit of money to get going, give me a call. I'll see if at least I can get it through as a proof of concept so that you can get a grant put in." | See bio page |
---
14. Eve Higginbotham, SM, MD
Vice Dean for Diversity and Inclusion, and Professor of Opthalmology, Perelman School of Medicine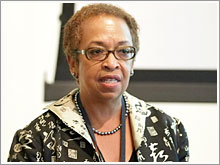 THE NATIONAL SECURITY IMPLICATIONS OF U.S. OBESITY
Named a year ago as the first Vice Dean of Diversity and Inclusion in Penn's Perelman School of Medicine, Eve Higginbotham said that "institutionally, we hope to build special interest groups around health disparities innovation and we would like to develop an institutional strategy for military health and veterans' care." Related to that last goal, Higginbotham, who also sits on the Defense Health Board of the U.S. Department of Defense, pointed out that two recent projects she was involved in documented how obesity and overweight may impact the country's ability to recruit sufficient numbers of military personnel. In addition, she said she was "deeply involved with trying to understand how we can maintain the care of our amputees between conflicts." | See bio page |
---
15. Meggie Crnic, PhD, MA
Lecturer, Health & Societies, Arts & Sciences Department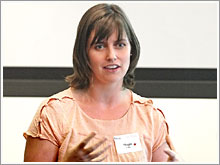 A HISTORY OF LDI
The last speaker — Meggie Crnic — wasn't an LDI Senior Fellow but rather a Penn historian. She spoke at length about Leonard Davis, the founder of both the Colonial Penn Insurance company and the American Association of Retired Persons (AARP) who made his fortune in the insurance business. When Medicare was signed into law in 1965, Davis realized there was insufficient scientific data and expertise available to effectively assess and manage what would be the largest and most complex health insurance financing program in the history of the world. Davis was convinced that a new kind of research center combining the academic disciplines of medicine, insurance and economics would be needed and in 1967 he put up the funds to create the first such institute within the University of Pennsylvania.
---