Health Care Access & Coverage
News
Four LDI Executive Directors Gather for Penn Faculty-Alumni Health Care Panel
Video Excerpts of Their Views on Health Care's Most Important or Worrisome Trends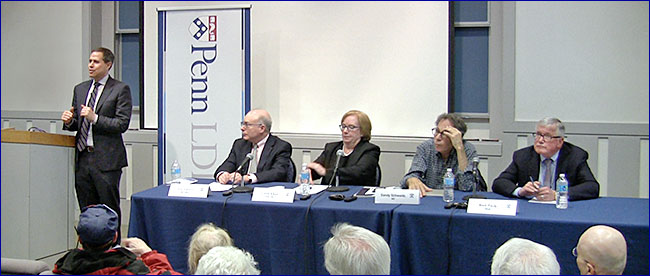 A special Anniversary edition of the annual Penn Faculty-Alumni health care seminar featured the current and three previous executive directors of the Leonard Davis Institute of Health Economics who, in total, have led that center for 33 of the 50 year history it celebrates in 2017. 
Moderated by current LDI Executive Director Daniel Polsky, PhD (2012 to present), the panel included former LDI chiefs David Asch, MD (1998 – 2012), J. Sanford Schwartz, MD (1989 – 1998), and Mark Pauly, PhD (1984 – 1989). The fourth panelist was Professor and LDI Senior Fellow Linda Aiken, PhD, RN, Director of the Penn Nursing School's Center for Health Outcomes and Policy Research.
Focused on the coming changes in health care and heavily attended by alumni from the classes of 1962 and 1967, the event was held in Penn's School of Arts and Sciences' Claudia Cohen Hall.
Launched in 1967 as the first academic center to combine the academic pursuits of a major medical school and business school, LDI is a hub of health care research and policy analysis. Its executive directors and senior fellows are among the most insightful in their field. Here's what the panelists had to say about some of the most important trends and issues facing the future of health care:
Former LDI Executive Director David Asch, who is now Executive Director of the Penn Medicine Center for Health Care Innovation, focused on advances in behavioral economics, new kinds of social media-related monitoring tools, and a growing understanding that the 5,000 waking hours of an individual's annual life are a crucial component of health and health care previously overlooked by clinicians.
Former LDI Executive Director J. Sanford ("Sandy") Schwartz, a professor at both Penn's Perelman School of Medicine and the Wharton School who researches the adoption and diffusion of medical innovation, pointed out that pervasive excitement over advances in the bio-medical side of precision medicine needs to be balanced by more attention on the health services research side of that emerging field.
Former LDI Executive Director Mark Pauly, who is an economist and Professor of both Health Care Management and Business and Policy at the Wharton School, emphasized that health services research scientists "need to develop bullet-proof evidence that health insurance really does improve peoples' health." He explained that without that evidence the stability of the concept of health insurance subsidies for low-income people "is in serious jeopardy."
Professor and Director of the Penn School of Nursing Center for Health Outcomes and Policy Research Linda Aiken, told the audience of septua- and octogenarians that when they graduated 50 or more years ago, the health care work force was dramatically different from what it is today and that broad changes will continue to occur as the system moves to a "team concept" of care. The core difference is that much of the work previously performed by physicians is now being taken over by physician assistants, nurses, pharmacists, psychologists, physical therapists and other allied health professionals.