COVID-19 | Health Care Access & Coverage
News
How the ACA, COVID-19 and Electronic Records Are Accelerating Implementation Science at Penn
Penn LDI's Rinad Beidas and Meghan Lane-Fall Reflect on an Extraordinary Decade of Change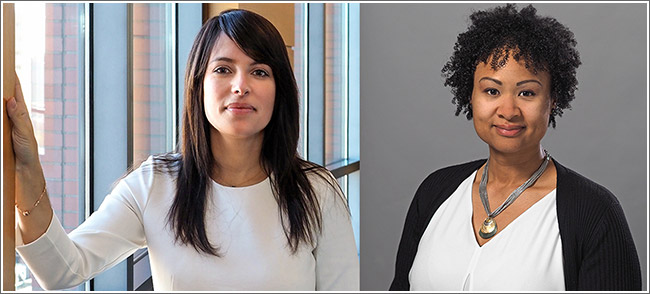 Fifteen years ago, a young Temple University psychology student working in a Child and Adolescent Anxiety Disorders Clinic noticed that an evidence-based therapy was consistently more effective than traditional psychotherapy for treating anxiety in children. She also observed that despite Cognitive Behavioral Therapy's efficacy, the 40-year-old method was still not widely used throughout the nation's clinics. She couldn't stop wondering why a clearly superior, evidence-based method had not been more quickly implemented across the country to provide better treatment for children in need.
That experience began University of Pennsylvania psychologist and LDI Senior Fellow Rinad Beidas' career in what has become the burgeoning health care field of implementation science.
Cluster of initiatives
Today, Beidas sits atop a cluster of Penn implementation science-related research and educational initiatives that involve nearly $27 million (direct costs) in grants, over 300 faculty members, staff, and students, and internal collaborations with  Penn LDI, the Abramson Cancer Center, CMH, the Penn Master of Science in Health Policy Research program, CFAR, CHOP, and CHIBE. 
Beidas is principal or multi-principal investigator on newly funded projects including a $3.2 million study of how community health workers might be integrated into HIV treatment programs, funded by the National Institute of Nursing Research; a $4.9 million study of how implementation science and behavioral economics might be incorporated into cancer care, funded by the National Cancer Institute; and a $3.6 million study of how to boost implementation of an evidence-based firearm safety program within pediatric primary care practices, funded by the National Institute of Mental Health.
Research-to-practice gap
Implementation science is a field that studies the clinical, administrative, logistical, behavioral, financial, and political mechanisms that foster or inhibit the acceptance and routine practice of new research discoveries in health care delivery. The ultimate goal of the discipline is to close the research-to-practice gap to eliminate ineffective methods, and more closely connect health care institutions and their patients to the latest scientific advances in care.
The problem implementation science addresses lies in the widely acknowledged fact that it takes, on average, 17 years for original research discoveries to be integrated into clinical practice. The National Institutes of Health (NIH) spends more than $40 billion every year in grants to fund health-related research.
Only in the last ten years has implementation science been more widely recognized as a meaningful field of academic investigation, particularly in the wake of sweeping changes required by the Affordable Care Act, and the more dramatic health care delivery changes demanded by the current COVID-19 pandemic. But the road to implementation of implementation science across academia hasn't always been smooth.
Rinad Beidas, PhD, is an LDI Senior Fellow and Associate Professor of Psychiatry, Medical Ethics and Health Policy, and Medicine at the Perelman School of Medicine; Founding Director of the Penn Implementation Science Center at the Leonard Davis Institute of Health Economics (PISCE@LDI); Director of Implementation Research at the Penn Center for Mental Health (CMH); Co-Director of the Penn Center for AIDS Research ISPHERE Scientific Working Group (CFAR); and Associate Director at the Center for Health Incentives and Behavioral Economics (CHIBE).
Meghan Lane-Fall, MD, MSHP, is an LDI Senior Fellow and holds an endowed chair as the David E. Longnecker Associate Professor of Anesthesiology and Critical Care in the Perelman School of Medicine's Department of Anesthesiology and Critical Care. She is Vice Chair of Inclusion, Diversity and Equity in the same department. She is also Director of Acute Care Implementation Research at PISCE@LDI, and Co-director of the Center for Perioperative Outcomes Research and Transformation (CPORT). Her current R01 grant, funded by the National Heart, Lung, and Blood Institute (NHLBI), is an implementation science study of safer and more effective post-surgical handoff protocols.
"When I first came to Penn in 2011," remembered Beidas, "Ezekiel Emanuel and LDI created an Implementation Science Working Group, led by Karen Glanz and John Kimberly; Kimberly, Josh Metlay and Frances Barg also launched Penn's first Implementation Science course as part of the Master of Science in Health Policy (MSHP) program. So, there was growing interest in some quarters of the campus, but also a lot of skepticism in others. The questions I frequently heard were 'What actually is this thing?,' 'Is it really useful?,' 'Is it worth investing in?'"
"However," Beidas continued, "over the last five years we've finally seen the legitimization of the field and broader recognition that all the scientific discovery we do is wasted if it doesn't reach the clinicians and patients at the point of care. In the last two or three years, there have been a lot of implementation science funding announcements that have generated more interest in the field among scientists."
One of those drawn into Penn's Implementation Science community was Meghan Lane-Fall, MD, MSHP, who was introduced to the topic as a MSHP student in 2013, the second year of the Implementation Science course where Beidas was one of the instructors. Seven years later, LDI Senior Fellow Lane-Fall now directs that same MSHP course and serves as Director of Acute Care Implementation Research at the Penn Implementation Science Center at LDI.
Changing clinician behavior
"I was attracted to implementation science because it was an emerging field that seemed to offer a lot of opportunity, and because it was so relevant to my work where I ask questions about why clinicians behave the way they do, and how some of that behavior might be changed," said Lane-Fall. 
"Another factor in my interest was the unfolding of the Affordable Care Act," Lane-Fall continued. "It created a national conversation about how we should be providing care and creating accountability for that care that made the concept of implementation science so much more relevant. I think the ACA gave us ideas about the policy levers that could be pulled to bridge the evidence-to-practice gap, and more scientists, like me, became interested in how to make that happen."
The impact of COVID-19 was similarly transformational, resulting in the somewhat frantic implementation of major care delivery changes at a speed beyond anything most academics could have ever imagined. That speed is now viewed by many as hard evidence of how quickly new methods in other parts of health could be implemented in the future.
Pandemic impact
"At the beginning of the pandemic, I felt a little paralyzed because I wasn't sure what I had to offer," said Beidas. "We didn't know much about coronavirus; there was no evidence to work from; and we didn't know how to treat patients. But there were big changes happening virtually overnight in ways that were unfathomable prior to COVID. For instance, as a psychologist who delivers care through the Center for the Treatment and Study of Anxiety, telehealth had never been an option for me because of regulatory reasons. Then, all of a sudden, I'm delivering all my sessions via Bluejeans."
"It is amazing," said Lane-Fall, "what can happen when you've got leaders truly engaged; and that's the lesson COVID has taught us. You can create conditions for really rapid change if the people who control the purse and policy and hold the influence can get all those things aligned. Moving forward, I will be looking for ways to create that alignment on other issues outside of COVID."
Lane-Fall also pointed to a third force beyond the ACA and COVID-19 that helped usher in a new age for implementation science — the national adoption of electronic health record systems. "EHR systems changed the practice milieu because they offered the electronic means for quickly implementing changes in clinician behavior; some of those changes have had a really dramatic impact," she said.
Not fully understood
Both Beidas and Lane-Fall note that implementation science remains a nascent field that is often neither fully understood nor completely embraced by health care institutions that generally know of it but aren't sure how it fits into their structure, even if they are learning health systems.
"Generally the kind of research Rinad and I do is often focused on creating generalizable knowledge and trying to move the overall field forward," said Lane-Fall. "But that's not necessarily the focus of a learning health system that concentrates on what happens within its own purview; generalizable knowledge is a secondary thing there. I think administrators can learn a lot from implementation science about how to achieve clinician behavioral change or engage patients in behavioral change. But we don't see that integrated in many health systems. For instance, there's no implementation science unit within Penn Medicine. There's an Innovation Center, the Nudge Unit, a Center for Evidence-Based Practice, and a Penn Value Initiative, but there's no arm specifically focused on implementation."
Another area that implementation science is beginning to take aim at is structural racism throughout health care, which Lane-Fall sees as an often-misunderstood quest.
Structural racism
"A big concern with structural racism is that we all don't think about it in the same way," said Lane-Fall. "There's a tendency among many in the U.S. to associate racism with intent — that is, in order for something to be racist, you need to intend to discriminate. But part of our inability to move forward in addressing racism is about people's inability to understand that a racist policy or structure can be the result of unintentional assumptions and practices baked into policies and social and economic structures."
"Implementation science needs to be asking more questions about race, racism and equity in a consistent manner and a common language," Lane-Fall continued. "Let's think about equity and how our policies, procedures, implementation approaches, strategies, and contextual inquiries may be experienced across different populations. We're now seeing more implementation science frameworks emerging that do put equity at the center. This starts to move us closer to identifying and understanding what structures actually maintain racist outcomes."
"The fact is, we don't have a lot of evidence about how to dismantle structural racism, and implementation science can be a major force in developing that evidence," she said. "I haven't seen people within implementation science go back to the evidence itself and question whether the evidence applies equitably. And when we look at representation of people in research studies, for instance, research subjects are overwhelmingly white and overwhelmingly male. So I think there is also a role for implementation scientists to question the very evidence that forms the premise of our interventions, and I would like to see more attention paid to that moving forward."
The bottom line
"The bottom line," said Beidas, referring to where "forward" might be, "is that we all have a shared mission to identify and transform health care in ways that are equitable, efficient, and effective. Implementation science offers us the set of tools that enables us achieve that, and Penn is providing us with the support that makes that possible. I think this is just the beginning and we hope to partner with whoever is interested in sharing this mission with us."