COVID-19 | Health Equity
News
Implementation Science Grant Eyes New Role for Community Health Workers in HIV Intervention
Two Game-Changing Facts Increase Potential to Control Disease Spread
Thirty-nine years after it first emerged, and despite dramatic pharmaceutical advances in its control, University of Pennsylvania infectious disease expert Florence Momplaisir is still surprised at how many people assume HIV to be a death sentence.
"With the treatments available today, someone who is stable on antiretroviral therapy can have a normal lifespan and manage HIV as a chronic disease," said Momplaisir, MD, MSHP, FACP, a LDI Senior Fellow and Assistant Professor of Medicine at the Perelman School of Medicine.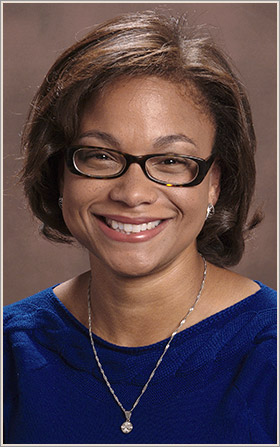 "The other fact not widely appreciated," she continued, "is that individuals who are on therapy and virally suppressed to an undetectable level have a zero risk for transmitting the disease. This has a lot of implications for sexual and reproductive relationships, meaning people in committed relationships can have sex without condoms and can plan pregnancy without any additional measures or anxiety."
19,000 in Philadelphia
The reason both facts matter so much nationally can be seen microcosmically in Philadelphia, where only 49% of 19,000 HIV positive individuals are in care with their viral load suppressed to undetectable. The other 51% can still spread the disease to their sexual contacts.
A new $3.2 million, four-year federal grant to Momplaisir and her Penn colleagues funds research to explore how mixing community health workers (CHW) into the clinical HIV therapy teams might boost efforts to reach and treat these out-of-care individuals.
Funded by the National Institute of Nursing Research (NINR), the project is a partnership between the Centers for AIDS Research (CFAR) and the Penn Implementation Science Center (PISCE@LDI) in coordination with the Philadelphia Department of Public Health.
Community health workers
The Penn research team is also partnering with the Health Resources & Services Administration (HRSA); Momplaisir said the agency "is very excited about using community health workers to improve the retention and viral suppression for people living with HIV."
Momplaisir is co-leader with LDI Senior Fellows Rinad Beidas, PhD, and Robert Gross, MD, MSCE, in the project that will use an evidence-based intervention called Managed Problem Solving (MAPS) to increase adherence to HIV therapy in Philadelphia.
Beidas is an Associate Professor of Psychiatry, Medical Ethics and Health Policy, and Medicine, and Director of the Penn Implementation Science Center (PISCE@LDI). Gross is Professor of both Medicine and Biostatistics and Epidemiology at the Perelman School.
We're very excited about the fact that soon we'll be able to provide intramuscular injections every month for people who are doing well. This is a game changer, and hopefully, will help contribute to moving the needle towards ending the HIV epidemic.

Florence Momplaisir
New CFAR Working Group
Simultaneously, Momplaisir, Beidas and Penn Nursing School scientist Steven Meanley, PhD, MPH, were appointed by CFAR to co-lead the parallel scientific working group ISPHERE (Implementation Science in Philadelphia to End the HIV Epidemic Regionally). The working group's goal mirrors that of the NINR grant but also includes efforts to support broader development of community-academic partnerships and collaborative work related to HIV prevention and treatment in a rapidly changing environment.
Momplaisir noted that along with the successful daily antiretroviral pill currently in use to suppress the virus to undetectable levels, a new wave of longer-term injectables is on the horizon for HIV treatment.
Moving the needle
"We're very excited about the fact that soon we'll be able to provide intramuscular injections every month for people who are doing well," said Momplaisir. "This is a game changer, and hopefully, will help contribute to moving the needle towards ending the HIV epidemic."
However, that can only happen if large numbers of HIV positive individuals who are not in treatment can be identified and brought under care to have their virus levels reduced.
Originally delivered by a psychologist, the Managed Problem Solving (MAPS) intervention is a clinical technique designed to help HIV patients identify and problem solve behavioral and other barriers preventing them from fully participating in antiretroviral therapy. But MAPS efforts are often stymied by the limited numbers and tight schedules of psychologists available for the work. So, in an effort to open an avenue to a more scalable MAPS operation, Momplaisir's research team will be testing the use of community health workers in this role.
Culturally appropriate
Community health workers are trained and trusted individuals from low-income communities who conduct culturally appropriate health care-related outreach, support and system navigation activities aimed at high-risk members of their own neighborhoods.
The virus itself doesn't discriminate, but a lot of policies do in the way they hinder access to care and encourage transmission among vulnerable populations.

Florence Momplaisir
"This has never been done before in terms of using community health workers to implement MAPS in the clinic setting," said Momplaisir. "However, CHWs have been used pretty widely in the HIV world in other ways just because of their connection with the community. We felt it was important to train people who share demographic, and sometimes the social, backgrounds with people living with HIV to carry out the intervention. This is the novel part of the work."
It's also a challenging part of the work.
"Obviously integration of the community health worker with the clinical team is crucial," Momplaisir noted. "They have to function as an active member of the team and there needs to be feedback in both directions between CHWs and the clinical team. Equally obvious and very important, particularly for HIV, is respect for the rules regarding confidentiality. That's something we plan on emphasizing and re-emphasizing in our training and refresher courses."
Women and HIV
Momplaisir, a native of Haiti who earned her MD at Penn State in 2006, her MSHP at Penn in 2012, and was Board Certified in the Infectious Disease specialty in 2014, is now involved in a number of other HIV-related initiatives. She actively advocates for the care of women living with HIV through her regional involvement with the Philadelphia Department of Health's Fetal Infant Mortality Review and nationally, with the Centers for Disease Control Elimination of Maternal Child Transmission of HIV Infection Stakeholders Group.
"I'm particularly interested in HIV because the current situation is the result of our society's systemic failure to address basic issues of health equity," Momplaisir explained. "The virus itself doesn't discriminate, but a lot of policies do in the way they hinder access to care and encourage transmission among vulnerable populations. This particular intersection of infectious disease and social justice is really the reason I was drawn to HIV care and research."