Health Equity
News
Innovation Tournament Targets Mental Health Clinicians Across Philadelphia
Penn Event Announces Winning Ideas for Increasing the Use of Evidence-Based Treatments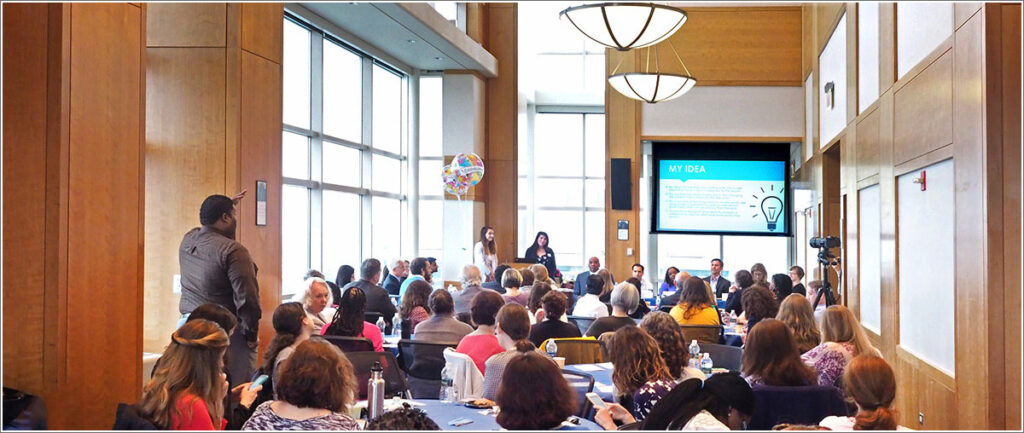 Fifty-five Philadelphia clinicians from facilities that provide mental health services throughout the City's most vulnerable communities were part of an unusual innovation tournament and award program (above) organized by Penn's Center for Mental Health Policy and Services Research (CMHPSR).
Part of a four-year, NIMH-funded Penn ALACRITY study exploring how behavioral economics and implementation science can be combined to improve mental health care, the "IDEA Gala" tournament received 65 submissions from 55 clinicians about how to broaden and accelerate the use of evidence-based practices in the region's community mental health organizations. Six winning ideas were selected by a six-member Challenge Committee headed by Philadelphia Commissioner of Behavioral Health and Intellectual disAbility Services (DBHIDS) David Jones, MS. ALACRITY is a collaboration between CMHPSR and Penn's Center for Health Incentives and Behavioral Economics (CHIBE).
Previous CMHPSR surveys found that many of the City's public mental health system clinicians don't feel rewarded or recognized for their use of evidence-based practices that are more effective than many other approaches to psychotherapy. The four-year study is aimed at identifying ways to change that.
Trained in evidence-based Trauma-Focused Cognitive Behavioral Therapy (TF-CBT), IDEA Gala awardee Lisa Gaub, LPC, NCC (above, left), is a Clinical Supervisor at Saint Gabriel's Hall, a juvenile facility for 150 young men who have been adjudicated delinquent. Despite her training, she said, there has been little reinforcement of TF-CBT efforts and she personally feels like she's "flying solo." Her idea is to establish a monthly "lunch and learn" session that would bring regional trainers and evidence-based practice specialists to the agencies. This would make training more accessible and convenient. She sees this as the first step in building a regional network of EBP clinicians who could help keep each other better informed.
Waiting rooms at community mental health clinics can be tension-filled environments, explained awardee Pedro Molteni, MA (above, right), who was trained through the Beck Community Initiative, a Penn Medicine collaborative program. "My idea recognizes that chaos is already part of some of our patients' lives and they bring that into the waiting room," said Molteni, a therapist at Community Mental Health and Mental Retardation (COMHAR). The first part of his two-pronged idea is to change the content of waiting room TVs from the often-frantic standard network fare to calming and informative programs such as mindfulness exercises. The second part is to use a care coordinator or peer specialist to distribute and discuss the individual client's pre-session "quick sheet" (such as the one used in the Beck Community Initiative) in the waiting room in a manner that helps the patient focus on the upcoming session.