News
LDI Implementation Science Working Group Expands Into Major Initiative
Seven Years After Founding, High Level of Interest and Results Drive Growth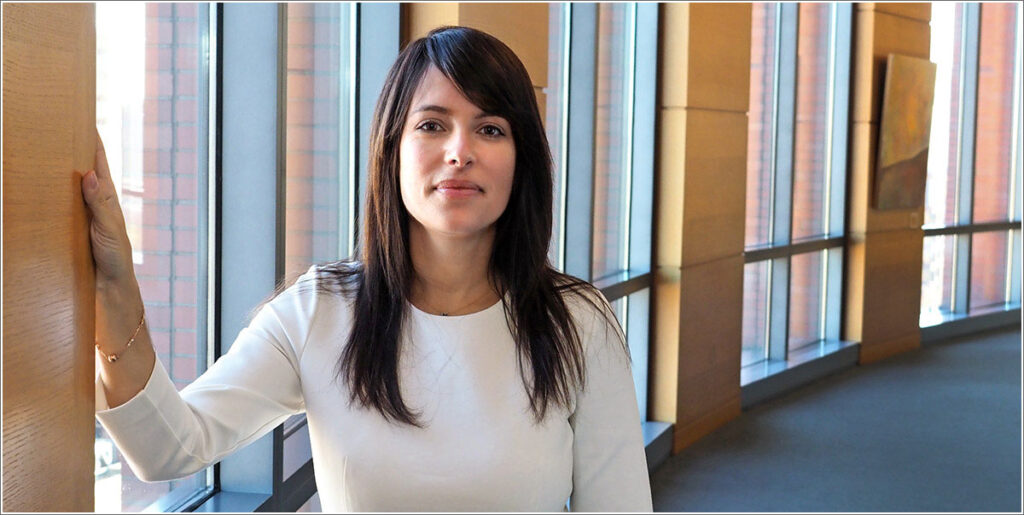 Seven years after it was created, the Leonard Davis Institute of Health Economics' Implementation Science Working Group is being expanded into a major initiative aimed at establishing the University of Pennsylvania as a leader in this burgeoning new field.
The Penn Implementation Science Center @LDI (PISCE@LDI) will be directed by Rinad Beidas, PhD, Associate Professor of Psychiatry and Medical Ethics & Health Policy at Penn's Perelman School of Medicine, a LDI Senior Fellow, and a nationally recognized expert in the field of implementation science. PISCE@LDI has also just launched an extensive web page.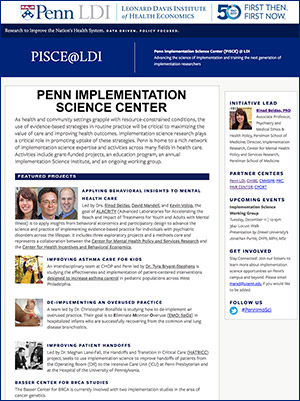 'Important agenda'
"I'm thrilled to support the vision of Dr. Beidas to grow Penn's leadership in this field," said LDI Executive Director Daniel Polsky, PhD. "At its core, LDI supports the research community's work to improve the nation's health system and throughout our history we've prioritized efforts to close the gap between research and its application into policy and practice. The growing field of implementation science provides a rigorous and scientific approach to advance this important agenda."
Implementation Science is a discipline addressing the lag time between when researchers develop evidence of new and more effective treatments and delivery methods, and when those practices are adopted and routinely used in usual care. This delay often is as long as 17 years and has major consequences for system costs and patient outcomes in virtually all areas of health care. These facts are increasingly drawing the attention of providers as well as insurers and government agencies involved in the national effort to both improve patient care and control its constantly increasing costs.
Evidence-based treatments
"Even as scientists produce evidence-based treatments that successfully prevent, treat and cure many health conditions in university-based settings, individuals in the community receive care that does not incorporate these advances," explained Beidas, who has been involved in the field since before she attended the first NIH conference on the subject in 2007. Back then, about 80 people showed up. Now, the NIH/AcademyHealth Conference on the Science of Dissemination and Implementation in Health draws more than 1,200 scientists and health professionals to Washington each year.
During the last decade, interest in implementation science has increased exponentially, particularly driven by government funding institutions eager to ensure their investments result in changes in care. It has become a major component in the operations and strategic planning of agencies like the National Cancer Institute, the National Heart, Lung and Blood Institute, the National Institute of Mental Health, AHRQ, CDC, PCORI, and the VA. Similarly, at least fifteen universities have created Implementation Science Centers, including the Universities of Washington, North Carolina, Wisconsin and Michigan.
"Over the years we have gone from a small core group of faculty and trainees who fit into a small lounge with room to spare," said Beidas. "Now we are in a classroom which is about three times larger and we are outgrowing that. There is a rapidly widening interest in this work across the Penn campus and our goal with this new initiative is to harness that and situate Penn as the leader in advancing the science of implementation and training the next generation of implementation science researchers."
20 NIH grants
Since Beidas assumed a leadership position in 2013, the LDI Implementation Science Working Group has brought together approximately 100 experts across campus who now have over 20 NIH research grants totaling over $35 million in fiscal year 2018. They are actively involved in running regular events for scientists and educational events for students.
Research projects currently underway include a P50 NIMH ALACRITY Center that is exploring how to best to combine behavioral economics and implementation science methodologies to improve the use of evidence-based practices in mental health care. Another project is focused on the implementation of patient-centered interventions for the control of asthma in pediatric populations. A third is using implementation science to improve handoffs of patients from operating rooms and intensive care units. Yet a fourth explores how to de-implement overused practices in certain areas of pediatric care.
In affiliated curriculum projects, Penn's Masters of Science in Health Policy Research (MSHP) offers an "Implementation Science in Health and Health Care" course taught by Beidas and Perelman School of Medicine Assistant Professor and LDI Senior Fellow Meghan Lane-Fall, MD, MSHP. The MSHP program additionally runs an annual "Implementation Science Institute" that provides a three-day deep dive into the tools and techniques for planning and executing implementation science research projects taught by Beidas, Lane-Fall, and Perelman School of Medicine Professor and LDI Senior Fellow Judy Shea, PhD.
Patients, science, medicine
"We are way beyond the working group's 'proof of concept' phase now and with this new initiative are branching out to advance the science in a way that will make Penn a leading international institution in this field," said Beidas. "This new initiative will bring together a larger community of scholars who can be matched with community partners to develop ideas that are fundable by federal agencies and advance the science of implementation. Ultimately, these efforts will help inform the improvement of health and mental health care and ensure that important innovations are widely available in a timelier manner outside of academic medical centers. This is a win-win for patients, science, and medicine."