News
LDI Senior Fellows Get $4.9 Million Grant for Implementation Science and Behavioral Economics in Cancer Care
Focus on Accelerating Uptake of Evidence-Based Cancer Intervention and Care Practices
A $4.9 million grant from the National Cancer Institute (NCI) has been awarded to Penn Medicine to explore how implementation science and behavioral economics methods can be used to accelerate the uptake of evidence-based cancer intervention and care practices. The grant is led by two LDI Senior Fellows, Rinad Beidas, PhD and Justin Bekelman, MD, along with Robert Schnoll, PhD, from Penn Medicine.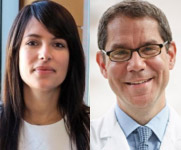 The five-year P50 research program will be headquartered at Penn Medicine's Abramson Cancer Center and bring together scientists from Abramson's Center for Cancer Care Innovation, the Penn Implementation Science Center at the Leonard Davis Institute of Health Economics, and other Penn centers and departments.
Eight other LDI Senior Fellows will be involved in the program, including Alison Buttenheim, PhD, MBA, David Asch, MD, MBA, Krisda Chaiyachati, MD, MPH, Frank Leone, MS, MS, Brian Jenssen, MD, Katherine Rendle, PhD, MSW, MPH, Mitesh Patel, MD, MBA, and Samuel Takvorian, MD, MS.
The grant is part of the Beau Biden Cancer Moonshot Initiative. Penn is one of seven centers across the country working on this effort as part of the NCI's Implementation Science Centers in Cancer Control. For further details, see Penn Medicine announcement.