News
National Impact of Penn Medicine Nudge Unit Concept Spreads
Report From the 2019 Nudges in Health Care Symposium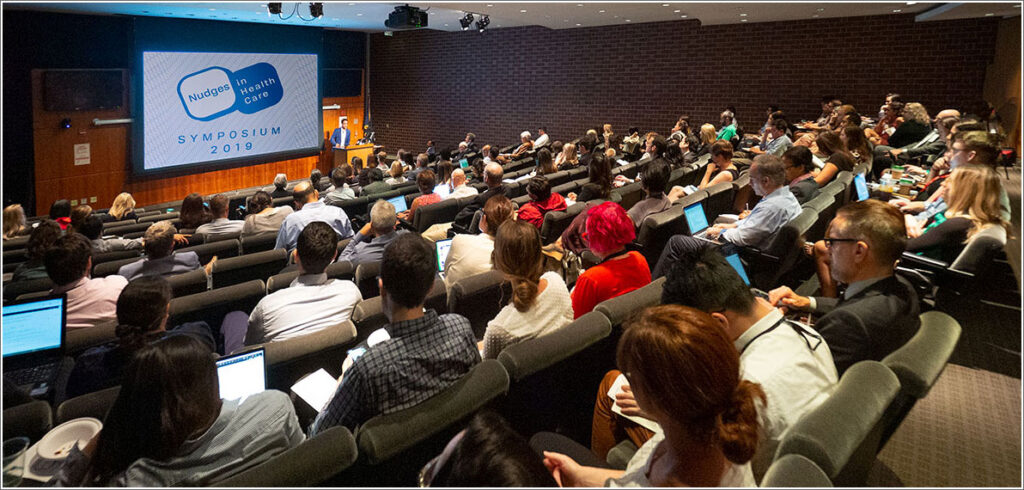 Probably the best word to describe what the second annual Nudges in Health Care Symposium was about is "impact." Twelve months ago, curious health industry executives and clinicians gathered at the first symposium to learn more about the unique Penn Medicine behavioral insights unit that was the first behavioral research operation ever established inside a health system. This year, several of those 2018 symposium alumni returned to detail how they are building their own health systems' nudge units.

"We were doing nudge-related and judgement and decision work for a while at our lab but we never had the idea that we could have a nudge unit inside our own health system," said Christopher Chabris, PhD (above, left), Co-Director of Geisinger's new Behavioral Insights Team. "We came to last year's seminar and it made a light bulb go off. We said 'if Penn can have one, why can't Geisinger have one?' A few days after we got home, Michelle Meyer (PhD, JD, now Co-Director of the Behavioral Insights Team) sent off a proposal for a nudge unit to the Chief Scientific Officer who forwarded it to the CEO and the Chief Innovation Officer and within a couple of days they wrote back saying 'Great idea. Let's do it.' And now we have a unit within Geisinger's Steele Institute for Health Innovation."
Attending the 2019 symposium from Sanford Health, Emily Griese, PhD (above, middle), Director of Population Health, said last year's seminar triggered the decision to create Sanford's Nudge Unit. "Last year our CMO, CIO and Chief Quality Officers all attended and came home to give us administrative support for the unit," she said. "We came to the symposium this year with a number of Sanford's front-line research and operations people. They're really thinking through how to take the next step in building our Nudge Unit." Sanford operates hospitals and clinics in 26 states.
"After attending last year's symposium, I was inspired by the work of the Penn Medicine Nudge Unit," said Daniel Croymans, MD, MBA (above, right), a primary care physician and member of UCLA Department of Medicine's Quality Team. "When I got back to UCLA, I emailed as many people as possible, pointing out that UCLA had all the ingredients needed to form our own unit. We set it up within the Department of Medicine, adopted best practices from Penn, and formed a team with domain experts in patient care, clinical operations and quality, behavioral design, economics and informatics. Our goal is to partner with stakeholders across the health system to design, test, and scale nudges that result in higher value care and better patient outcomes."