News
Penn LDI 2020 Year in Review
In Penn LDI's 2020 Year in Review, we look back at the most defining moments of an unprecedented year for our community. In the midst of the immense hardships, injustice, and unrest of the past year, there was also hope, hard work, a tremendous amount of innovation, and an unrelinquished sense of community that helped sustain us.
COVID-19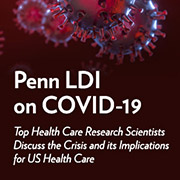 In the spring, Penn LDI awarded 13 COVID-19 Rapid Response Research Grants, designed to produce policy insights directly relevant to the unfolding pandemic and its broad range of health effects.
Our Fellows quickly became prominent voices in national conversations about COVID-19, and we created a digital hub to track their latest COVID-19 research, news, and media appearances.
Events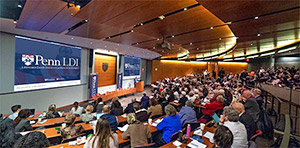 Before the pandemic, Penn LDI held its largest in-person conference to date, Medicare for All and Beyond: Expanding Coverage, Containing Costs (on Twitter #LDIhcreform2020), co-sponsored by Penn Law and the Annenberg School for Communication.
Then, as the pandemic took hold, we quickly pivoted from in-person to virtual events. We hosted over a dozen virtual seminars in 2020, featuring leading experts from Penn and beyond. Thousands of participants from across the country tuned in to discuss some of the most pressing issues facing health care and health policy, ranging from COVID-19's impact on vulnerable populations and health care innovation, to the effects of structural racism on health, and prospects for health care reform in light of the 2020 election.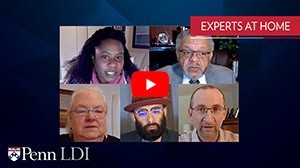 We also hosted our first-ever virtual conference, Expanding Scope of Practice After COVID-19, co-presented by Penn Nursing, with support from Penn Dental and Penn Law (on Twitter #LDIScopeofPractice), presented in conjunction with the Year of the Nurse and Midwife, designated by the World Health Organization.
Health Equity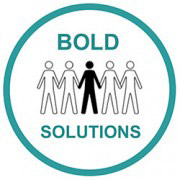 We joined researchers from across Penn's campus on a new initiative, Bold Solutions: Dismantle Racism. Advance Health., focused on accelerating the science of structural, institutional, and interpersonal racism, implementing evidence-based interventions to eliminate racism, and advancing antiracist health care delivery models. In partnership with Bold Solutions, Penn LDI funded 12 pilot research grants to investigate and address the effects of racism on health.
Research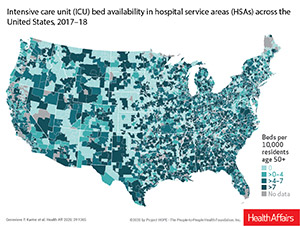 As the COVID-19 pandemic upended the world, LDI Fellows pivoted rapidly to apply their expertise to the evolving crisis. They conducted one of the first analyses of the effects of a lockdown in Wuhan on the spread of the virus across China, helped develop a model for hospital planning in the early stages of the pandemic, and created procedural guidelines for institutions needing to allocate scarce resources during a crisis.
As the full force of the first wave of the pandemic hit, LDI Fellows analyzed its impact on nursing home care, described socioeconomic differences in access to intensive care beds, and quantified the geographic distribution and adequacy of the hospital and intensive care physician workforce to address the growing need.
LDI Fellows Support and Achievements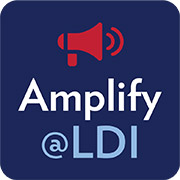 We launched Amplify@LDI, a new dissemination training program designed to enable our Senior Fellows to reach a wider audience with their research and policy insights. The 2020-21 Amplify@LDI cohort includes 12 Senior Fellows from five Penn schools.
In 2020, LDI Fellows were honored with a range of prestigious awards, including elections to the National Academy of Medicine (NAM); a Living Legend Award from the American Academy of Nursing; the Mid-Career Investigator Award from the Society for Academic Emergency Medicine; the American Society of Health Economists' Victor R. Fuchs Lifetime Achievement Award; and several AcademyHealth awards.
LDI Fellows were also appointed to the National Academies of Sciences, Engineering, and Medicine's COVID Vaccine Committee and Committee on the Quality of Care in Nursing Homes, and received grant funding from the National Institute on Aging, National Cancer Institute, and National Institute on Drug Abuse, among many others.
Looking Ahead
In 2021, Penn LDI will continue to facilitate multidisciplinary research and programs, connect and amplify our experts' work and achievements, and serve as a (virtual) hub at Penn and nationally, bringing together forward-thinking voices to seek out solutions to the most important issues facing population health, health care delivery, and health policy. We hope you will join us for upcoming virtual events, engage in conversations, and stay connected with us on Twitter and LinkedIn.