Improving Care for Older Adults
News
Penn Medicine's Amol Navathe Appointed to MedPAC
Joins Group of Top National Experts Who Analyze Medicare Operations for Congress
Penn Medicine faculty researcher and LDI Senior Fellow Amol Navathe has been appointed to a three-year term on the Medicare Payment Advisory Commission (MedPAC).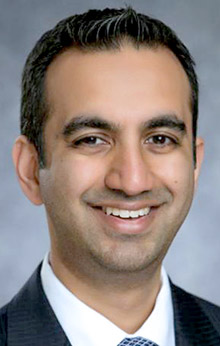 MedPAC, an agency within the Government Accountability Office (GAO), analyzes the cost, access and quality of care provided by Medicare. Each year, the 17-member panel submits two reports to Congress with recommendations for how Medicare services and operations can be improved.
"It is a tremendous honor to serve on MedPAC alongside so many luminary experts in health policy," said Navathe. "I am very excited to be engaged in public service once again, working toward improving Medicare for patients and society as a whole. I'm also thrilled to get a chance to represent Penn."
Engineer and physician
Navathe, MD, PhD, an engineer as well as a physician and health economist, is an Assistant Professor of Medical Ethics and Health Policy at Penn's Perelman School of Medicine and a staff physician at the Crescenz Veterans Affairs Medical Center. He is also Associate Director of the Penn Center for Health Incentives and Behavioral Economics (CHIBE).
Navathe's research has focused on hospital costs and quality, alternative payment systems like the "bundled payment" model fostered by the Affordable Care Act (ACA), behavioral economics as it pertains to physician behavior, the analysis of hospital data systems, and the use of such data in innovative ways to improve clinical practices and patient outcomes.
Previous LDI MedPAC members
Other LDI Senior Fellows who have previously served as members of MedPAC are Mary Naylor (2010), PhD, RN, FAAN, Penn Nursing School Professor and Director of the NewCourtland Center for Transitions and Health, and Ralph Muller (2004), MBA and CEO of the University of Pennsylvania Health System. Senior Fellow, former LDI Executive Director and Wharton School Professor Mark Pauly, PhD, was a commissioner on the Physician Payment Review Commission before that office merged with the Prospective Payment Assessment Commission to create MedPAC in 1997.