Opioid Epidemic
Blog Post
Do Stories and Numbers Change How People Consider Opioid Pain Treatment in the Emergency Department?
A Randomized Controlled Trial of Visual Interventions
Emergency departments (EDs) are filled with patients in pain. Up to 42% of patients who come to the ED do so with pain as a main complaint. Emergency departments are also places where the overlapping public health crises of pain (prevalence and inequities in treatment) and opioid use disorder (OUD) intersect.
In the emergency department, decisions about prescribing pain medications can be fraught. As a provider, I must consider how I can treat people's pain in a way that is beneficial, respectful, and equitable without exposing them to excess risks of opioid use.
We wanted to know if engaging patients with acute back or kidney stone pain—both very painful conditions that drive many to the ED— about their individual risks associated with opioid use after getting prescribed opioids would lead to a variety of patient-centered outcomes.
In the Life STORRIED (Life Stories for Opioid Risk Reduction in the ED) study, we tested two interventions in comparison to usual care in a national multicentered trial, enrolling about 1,300 patients. The first was a risk thermometer (visual and numerical) that displayed a patient's individual opioid risk for future misuse after a prescription.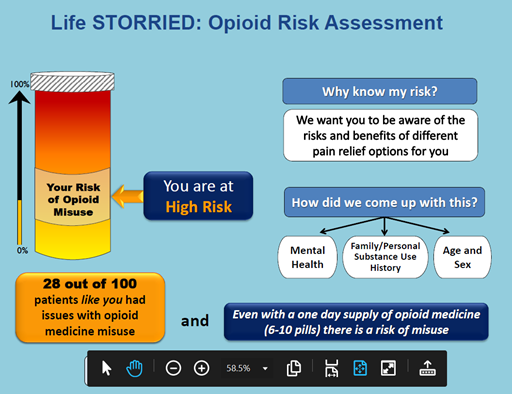 The second intervention was the same visual risk thermometer plus a narrative-based intervention—real stories from real patients—told in video vignettes displayed on a tablet.
Study participants who saw the risk thermometer alone and those who also watched the narrative videos had similar recall (39% vs. 43%) of their risk at two weeks, but were less likely to request opioids during their ED visit than usual care (26% vs. 33%). The highest risk patients were more likely to recall their risk with the narrative intervention (40% vs. 19%). Moreover, the narrative group reported greater satisfaction with pain treatment.
With the increase in the use of risk calculators in practice (for management of acute and chronic diseases—ranging from chest pain to blood pressure and cholesterol management), patients and their providers must commonly work through numerical approaches to weighing tradeoffs and making clinical decisions. Video narratives or other visual tools, including a risk thermometer, could be a way to help patients and their providers make sense of and contextualize these decisions within their preferences and values.
How could these digital tools be scaled across multiple conditions to make them accessible and user-friendly? Health systems, payers, and other policymakers might consider investing in supporting, developing, and integrating these tools into electronic medical record systems and patient portals, or pushing them to patient and provider phones and other personal devices.
We believe the combination of numerical risk and narrative data may have the power to communicate a variety of tradeoffs during complicated clinical scenarios that involve the intersection of patient-centered care and population-based care.
---
The study, A Multicentered Randomized Controlled Trial Comparing the Effectiveness of Pain Treatment Communication Tools in Emergency Department Patients With Back or Kidney Stone Pain, was published February 10, 2022, in the American Journal of Public Health by Zachary F. Meisel, Frances Shofer, Abby Dolan, Erica B. Goldberg, Karin V. Rhodes, Erik P. Hess, Venkatesh R. Bellamkonda, Jeanmarie Perrone, Carolyn C. Cannuscio, Lance Becker, Melissa A. Rodgers, Michael M. Zyla, Jeffrey J. Bell, Sharon McCollum, Eden Engel-Rebitzer, Max Jordan, Nguemeni Tiako, Greg Ridgeway, and Marilyn M. Schapira.
---
Author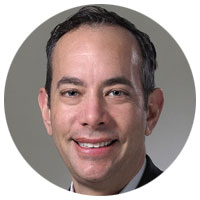 Associate Professor, Emergency Medicine, Perelman School of Medicine
---
More about Pain and Opioids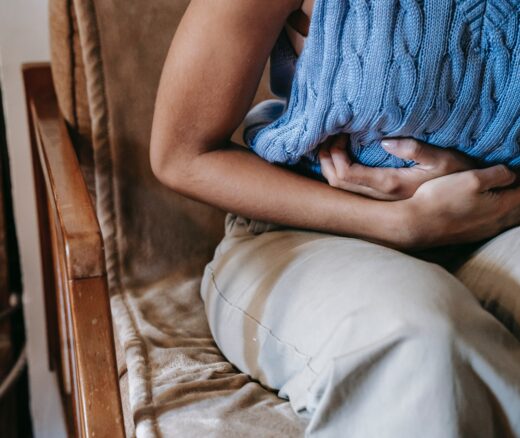 Understanding the Status Quo
Potential Unintended Consequences for Patients with Sickle Cell Disease and Boney Cancer Pain
Study points to marketing of OxyContin