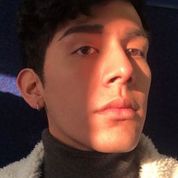 Gabriel Gutierrez
Gabriel Gutierrez is pursuing a BA in Anthropology at the University of Pennsylvania. He is interested in the realization of health as a complex mental, physical, social, political, and economic state of wellbeing that requires social justice to achieve an equitable future for Black, Native, Latinx, and Asian communities. In addition, Gutierrez is interested in the intersection of immigration and health, particularly within Latinx and Latin American contexts. He hopes to pursue additional degrees in Public Health and Education, and work in community development, health, and education policy within Latin America.
As a SUMR scholar, Gutierrez worked with Dr. Robin Ortiz on her project "Immigration Policy Exposure on Latinx Health and Biological Functioning Across the Life Course." Dr. Ortiz's work sought to understand and analyze the impact of policies on the health of underrepresented immigrant communities, inform immigration policy at local and national levels, and also set a new agenda for future research aimed at evaluating the links between immigration policy and population health.
Gutierrez is the Communications Chair for Penn for Immigrant Rights, an immigrant rights organization that fights to ensure that immigrant communities are not infringed upon at Penn or in Philadelphia. He is also Community Outreach Chair for MEChA, an organization that seeks to promote Chicanx unity through political action. Gutierrez tutors children through Puentes de Salud, a non-profit organization in Philadelphia that works to provide the undocumented, Latinx community in the city with the social services and resources they need. Additionally, he is a Penn Civic House Community Engagement Intern with Puentes de Salud, working to create enriching educational programming to aid students in Philly's growing Latinx population. He is a Penn College House Research Fellow and through his research project "Ending Colonialism: Localized Solution to Systemic Inequities" he is seeking to understand how societal inequities may be erased through oral histories and community health measures that study and empower the lives and histories of Black and Latinx communities in Philadelphia. In his free time, he enjoys cooking, baking, and reading.
Videos & Links
Presentation Slides