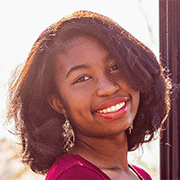 Jasmine Warren
Jasmine Warren is double majoring in Biology and Interdisciplinary Studies: Bioethics at Howard University. She has a distinct interest in achieving health equity and reducing health disparities through research. After completing her undergraduate studies, Warren is interested in pursuing a MD/PhD as a means of reforming the health care system to improve the health and wellbeing of marginalized communities.
During SUMR, Warren worked on two research projects. With Rinad Beidas, PhD and Adina Lieberman, MPH at the ARCH Lab, Warren conducted implementation science research in the realm of mental health. With Kevin Volpp, MD, PhD Warren worked on the Bold Solutions Health Equity Initiative, a project designed to improve health care treatment for Black Americans in Southeastern Pennsylvania.
Outside of research, Warren is a student-athlete on the Howard University Women's Soccer team. She is also the Chief Operating Officer (COO) of a nonprofit organization called NewColorsProject. She loves to use her free time to travel, experience new cultures, and listen to music.
Video