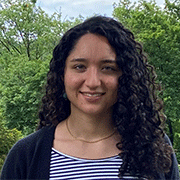 Karishma Lachhwani
Karishma Lachhwani is majoring in Health and Societies with a concentration in Global Health and minoring in Health Care Management at the University of Pennsylvania. She plans to go to medical school and hopes to become a doctor with a public health perspective. Her goal is to help design community-based interventions in addition to practicing medicine. She is also interested in how biomedicine is adapted to treat non-western communities, nutrition, and food policy.
During SUMR, Lachhwani worked on a project at the Psychology of Eating and Consumer Health (PEACH) lab with Christina Roberto, PhD. The project examined and evaluated the impact of different warning labels on sugar-sweetened beverages relative to standard calorie labels on purchasing and consumption behaviors.
Outside of research, she enjoys cooking new recipes, drawing, and reading. She is also an avid rock-climber who loves all things outdoors.
Presentation Slides
Video