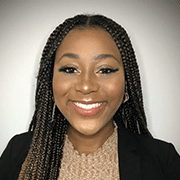 Sona Fokum
Sona Fokum is majoring in Public Health and double minoring in Biological Sciences and Chemistry at the University of Illinois at Chicago (UIC). She is deeply passionate about bridging the health access gap rooted in systemic racism, classism, and gender inequities that burdens vulnerable communities. She hopes to use her experiences at SUMR to aid her in her future pursuit towards a dual MD-MPH degree.
During SUMR, Fokum worked on two projects that focus on health equity. With Zachary Meisel, MD, MPH, MSHP, and Jake Morgan, PhD, Fokum Sona helped to produce an online resource and manuscript that unified data and state policies to address the opioid crisis – information that will be disseminated among stakeholders and policymakers to encourage action against this epidemic. With Florence Momsplaisir, MD, MSHP, FACP, she worked on a community-based project and a study on LGBTQ populations with the Center for AIDS Research Implementation Science in Philadelphia to end the HIV Epidemic Regionally (ISPHERE) Scientific Working Group (SWG).
At UIC, Fokum is a Presidential Awards Program Scholarship recipient through the Honors College and president of the UIC American Society of Molecular Biology and Biochemistry (ASBMB). She is also on the leadership council for Peer Health Exchange and a Peer Success Coach through the African American Academic Network. As a self-taught hair and makeup artist, she loves playing with different hairstyles and makeup looks on herself and her friends in her free time.
Presentation Slides
Video