News
New Medical Errors Documentary Wows Penn Professors and Administrators
Arrangements Already Underway to Use Film as an Educational Tool for Health Care Students and Professionals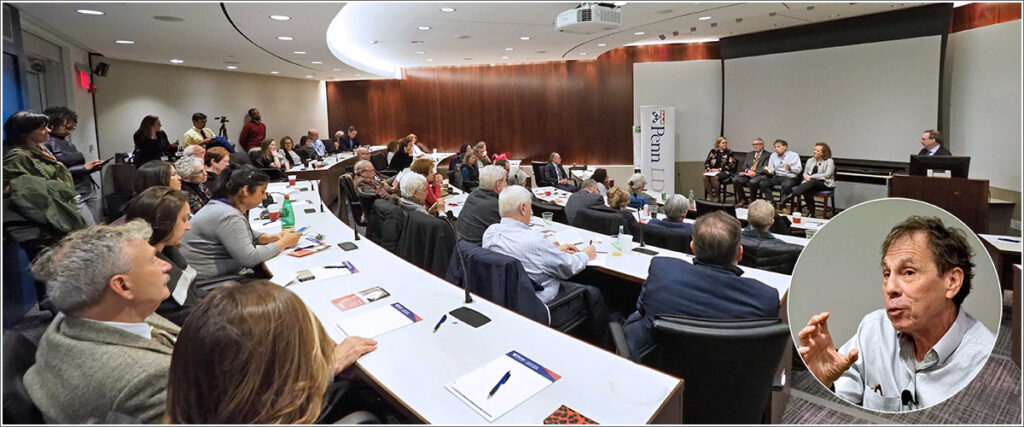 Penn Medicine professors and administrators who attended a private screening of a new feature-length film about medical errors by the son of the late John Eisenberg were so impressed by the work that they are making preparations to use the movie in their institutions' professional and student education programs.
Hosted by the Leonard Davis Institute of Health Economics (LDI), the screening of "To Err is Human: A Patient Safety Documentary," took place in the Gillen Auditorium of Penn's Vance Hall and was accompanied by a panel discussion moderated by Penn Medicine Department of Anesthesiology and Critical Care Chair Lee Fleisher, MD.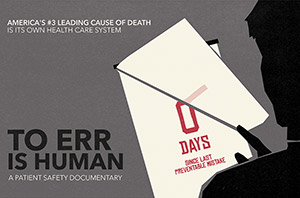 More than five dozen professors, staffers and grad students were on hand to view the movie written and produced by 33-year-old Michael Eisenberg, a founding partner of the six-year-old Tall Tale Productions studio in Chicago. Now making the rounds in the country's annual film festivals, "To Err is Human" is scheduled for public release in October.
"This was extraordinary," said panelist Helen Burstin immediately after the final credits rolled and the lights came on. She is the Chief Executive Officer of the Council of Medical Specialty Societies, former Chief Scientific Officer of The National Quality Forum, and worked with the elder Eisenberg when he ran the Agency for Healthcare Research and Quality (AHRQ) in the late 1990s. Burstin, MD, MPH, FACP, said John Eisenberg would have been proud of his son's production but "frustrated that we haven't figured out the systematic ways to really dramatically improve care."
'Remarkable tool'
As did the other members of the panel discussion, Burstin said "this film has the potential to become a remarkable tool in the education of health care professionals, along with drawing more intense public attention to this incredibly important issue."
LDI Executive Director Daniel Polsky, PhD, echoed the laudatory comments of the panelists. A nationally renowned health services researcher, Polsky said "as someone who constantly advocates for better evidence to guide patient safety practices, I have to say this film was outstanding. Along with the other things it accomplishes, it underscores the important role of effective storytelling to inspire real change."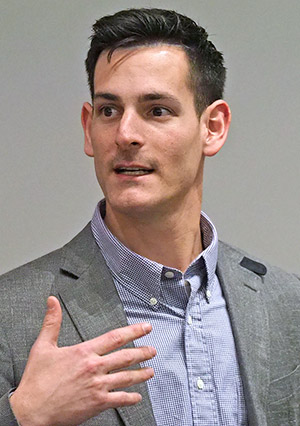 Two decades after the release of the Institute of Medicine's landmark "To Err is Human: Building a Safer Health System" report that is widely regarded as the beginning of the modern patient safety movement, the new "To Err" film provides a sweeping national update on the issue. Its central message is that although substantial improvements have been achieved in some areas of health care safety, overall, medical errors remain as unacceptably common as they are extensive throughout the delivery system.
Huge numbers
The 1999 IOM "To Err" report estimated up to 98,000 people died annually in the U.S. as the result of medical errors. Recently published estimates of the current rate from government and academic centers vary widely but many are substantially higher than the 1999 number.
The feature-length "To Err" film includes on screen appearances by some of the country's most respected health care research and management figures poignantly intertwined with the narrative of one family's tragic encounter with medical mistakes. Those preventable errors left one family member dead, another severely disabled, and turned a third into a high-profile national advocate for safer medical practices.
Factual drama
The moving, yet factual, drama of the film is what immediately made Fleisher and the other panelists see it as a potential educational tool beyond whatever it may become as a public entertainment.
"In addition to accurately portraying the journey that the medical community has been on to improve quality and reduce medical errors over the past 20 years, this movie added an emotional energy for change by framing it with a family's story of tragedy and triumph," said Fleisher. "That combination of facts and storytelling can help galvanize our students to be a key part of the solution."
For the last ten years, LDI Senior Fellow Fleisher, along with LDI Senior Fellows J. Sanford Schwartz, MD, and Jeffrey Silber, MD, PhD, have conducted an elective course for fourth-year Penn Medicine med students focused on medical errors and health care quality. The curriculum includes lectures by Penn Medicine CEO Ralph Muller, Children's Hospital of Philadelphia CEO Madeline Bell, and Penn Medicine Chief Medical Officer Patrick Brennan, MD. Schwartz and Brennan were also members of the film screening panel.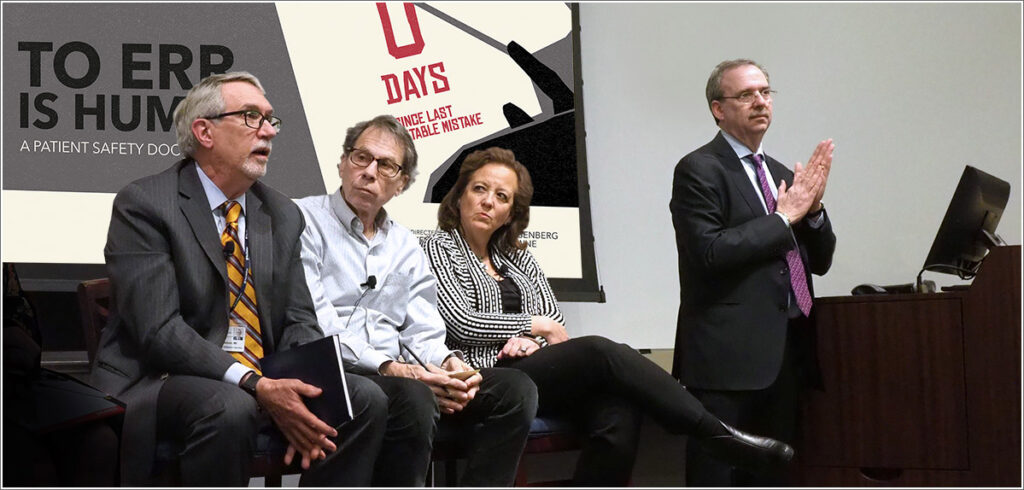 Clinical learning efforts
Panelist Regina Cunningham, PhD, RN, AOCN, FAAN, CEO of the Hospital of the University of Pennsylvania, said she'd like to screen the film at HUP as part of the facility's effort to bring more learning into the clinical environment.
"Huddling and talking on the floor about a safety event is much more real and effective than having to learn in a classroom. This film can help us push awareness further out there," Cunningham said.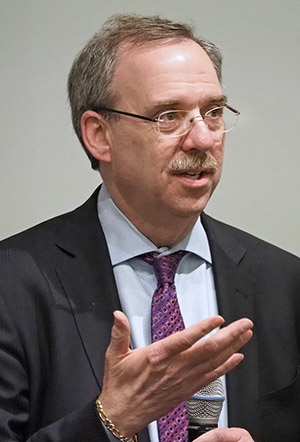 The young Eisenberg's project began three years ago as an idea to do a documentary about the Agency for Healthcare Research and Quality (AHRQ) but ultimately morphed into an overview of the national medical error issue that has been such a major focus of that embattled agency's work and research funding.
Kid without a clue
"I was a teenager when my father headed up AHRQ," said Eisenberg. "I had no clue about what he did except he always had piles of paper everywhere and he worked long hours. I was just a kid with a lot of other stuff on my mind. It wasn't until my dad passed and all these people from all over the country were suddenly being quoted in the news about how important he and his work had been, that I began to understand."
During the twenty years he spent at Penn in the first half of his career, John Eisenberg was a clinical scholar, an LDI Senior Fellow, an innovative health services researcher willing to pursue uncommon topics, a Penn Medicine Professor and mentor and, ultimately, a highly influential faculty member who was the founding chief of Penn Medicine's Division of General Internal Medicine.
Refocusing AHRQ
In 1997 when he was named the new chief of AHRQ, that federal health services research agency was in disarray and on the verge of being defunded. Aside from sweeping reorganization, the elder Eisenberg realigned AHRQ's priorities and funded systematic studies focused on patient safety and medical mistakes. One of those investigations concluded that 78% of all adverse drug mishaps were caused by system failures rather than individual clinician errors. That finding was among those incorporated into the Institute of Medicine's landmark 1999 report, "To Err is Human" that pushed the issue out of the closet and into the harsh glare of the press and Congressional committees.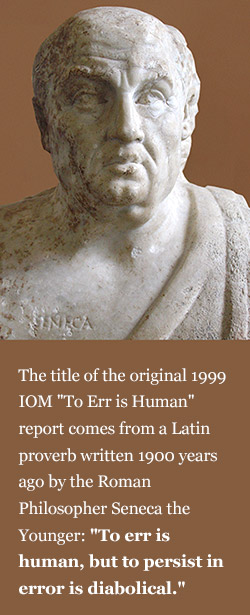 In the wake of that IOM report, Eisenberg, as head of the top federal office for health care quality, was charged with coordinating the federal effort to improve patient safety. In testimony before the Senate, he announced AHRQ was further expanding its funding of research on how information systems could be used to identify and prevent medical mistakes. He told senators the health care industry should adopt safety processes and procedures similar to those of the airline industry. He suggested systematically reorganizing health care delivery around the concepts of "teamwork, guidelines, automation, simplification and standardization."
Major public health problem
A year after the release of the IOM report, the federal government convened the National Summit on Medical Errors and Patient Safety Research to bring together top academic investigators, health care management professionals and government policymakers from across the country to focus on the issue. John Eisenberg opened the event by emphasizing that medical errors constituted a major public health problem and needed to be researched and treated like one.
He likened the issue of medical mistakes to an epidemic and said the country was in the first stage of trying to understand that epidemic that was taking such a toll on the life and well being of patients and the financial stability of the health care system itself. He estimated that the annual cost of medical errors in 2000 was $29 billion and said the solution to the problem required greatly expanded research efforts and long-term investment. Until the time of his death in early 2002, Eisenberg remained the country's most visible champion of patient safety.
Sixteen years later
Sixteen years later for Michael Eisenberg, the historical research and production of a film has brought him much closer to both his father as well as his father's legacy.
"When we began work on this film," said the younger Eisenberg, "I didn't realize we would end up with something that, in its own way, continues my dad's legacy. Normally we produce something and release it to the world and then move on to the next thing. But that's not the case with this one. I'm going to continue to try to spotlight the issue and be involved in the patient safety world as much as I can. I'm not really just a filmmaker on this one. I'm an advocate for all that my dad believed and worked for so hard during his incredible career."