News
Top Penn LDI Experts Address Biggest Challenges of Health Care's New Era
Researchers From Across Penn's Schools Gather for 2018 Health Policy Retreat: Photos and Video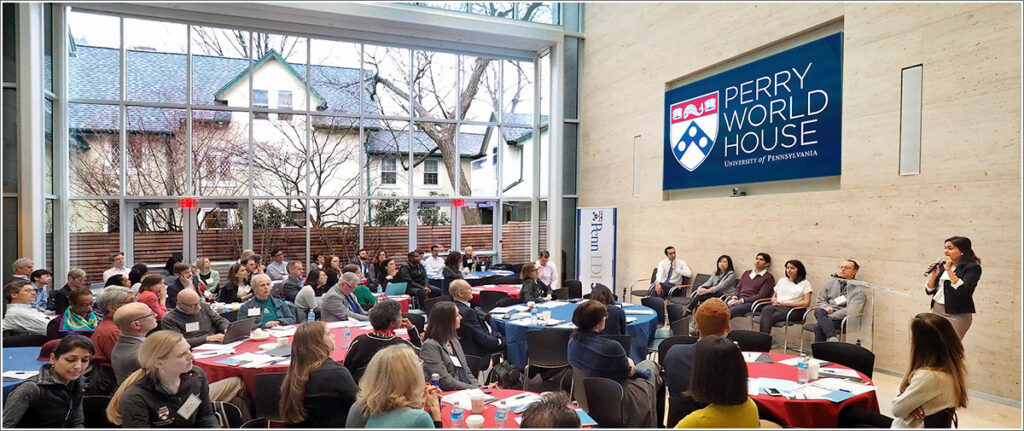 Opened in the Fall of 2016, Penn's Perry World House (above, left) is a center of global policy research and a conference venue famed for its artworks and airy architecture. Above, left, moderating a panel focused on health care prices and payment systems is LDI Senior Fellow Ezekiel Emanuel, MD, PhD, Vice Provost for Global Initiatives and Chair of MEHP.
Welcoming attendees is Daniel Polsky, PhD, (above, left) Executive Director of LDI and a professor of both Health Care Management at the Wharton School and Medicine at the Perelman School. He pointed out that the audience included faculty researchers from political science, medicine, management, economics, ethics, nursing and law and reflected the unique environment of the gathering. "Even people who have been at Penn a long time," he said, "often don't fully comprehend how rare it is to have this mix of collaboration but it's something that runs in the DNA of Penn, not only in health care but across so many other domains as well." Above, right, a "Meet the Press" session featured American Public Radio Marketplace health care reporter Dan Gorenstein and Vox.com's senior policy correspondent Sarah Kliff offering tips on how researchers could enhance their mass media dissemination efforts.
Amol Navathe, MD, PhD (above, left) an Assistant Professor of Health Policy and Medicine at the Perelman School discussed his studies of bundled payment, an alternative system established by the Affordable Care Act and now being tested across the country. Above, right, Konrad Kording, a Penn Integrates Knowledge (PIK) Professor at Perelman and the School of Engineering talks with LDI Senior Fellow Stephanie Creary, PhD, Assistant Professor of Management at the Wharton School.
Video Excerpts from the Policy Retreat